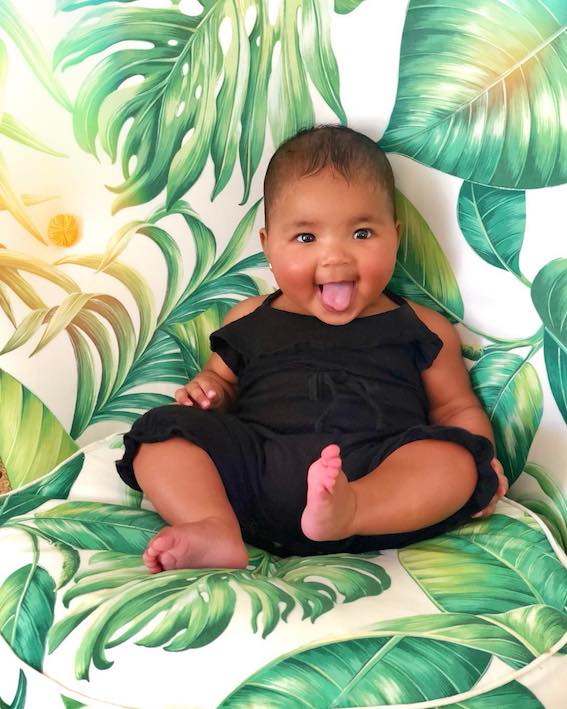 Any person not living in a cave or an Island in the middle of the Indian Ocean would have seen picture of Khloe Kardashian and Tristan Thompson's daughter, True. And if you've seen her, you'll be able to attest that she is the cutest little dot. Those chubby cheeks? The arm and leg rolls? Come on now. You cannot tell me she's not adorable.
But some hateful trolls have made it their mission to attack the baby online. After Kim Kardashian uploaded an image on Instagram of her own daughter Chicago, Kylie's daughter Stormi, and True, people took to the comments to spread the hate.
"True is so dark," said one of the commenters.
"I hate that True is so dark, the other two are a nice mix… she's a cute kid, just too dark."
Imagine being subjected to racism like that at 5 months old. We're appalled.
This is not the first time the Kar-Jenner clan have faced nastiness directed towards their children. Earlier this year, Kylie Jenner deleted all her photos of 7 month old baby Stormi after followers shared nasty comments of the child. Khloe could soon be following in her sister's footsteps. She has started by turning the comments off on the photos of her and True.
We think it's time for Instagram to take the wheel and track these trolls down. If you're hating on an infant, you definitely don't deserve an Instagram account.
Here's hoping that the comments stop so that True can go about her childhood not having to worry about evil Instagrammers and their nasty words.
Don't forget to follow us on Facebook and Instagram, and stay tuned for more Aussie Gossip.