There has been controversy over Bohemian Rhapsody ignoring Freddie Mercury's sexuality in its recent trailer.
Star Trek Discovery creator, Bryan Fuller accused 20th Century Fox of failing to recognise the Queen frontman's open homosexuality.
The TV producer expressed his anger over Twitter
"Anyone else mildly annoyed that the Bohemian Rhapsody trailer features gay/bi superstar Freddie Mercury flirting with and twirling with a woman but no indication of his love of men?" he wrote.
ANYONE ELSE MILDLY ANNOYED (enough to tweet about it) THAT THE #BohemianRapsody TRAILER FEATURES GAY/BI SUPERSTAR FREDDIE MERCURY FLIRTING WITH AND TWIRLING WITH A WOMAN BUT NO INDICATION OF HIS LOVE OF MEN?

— Bryan Fuller (@BryanFuller) May 15, 2018
Fuller sent out a second tweet which included a photo of 20th Century Fox's official plot description, calling out the studio for stating that Mercury was facing a "life-threatening illness," instead of specifically saying that he had AIDS, which he contracted from, "Having sex with gay men."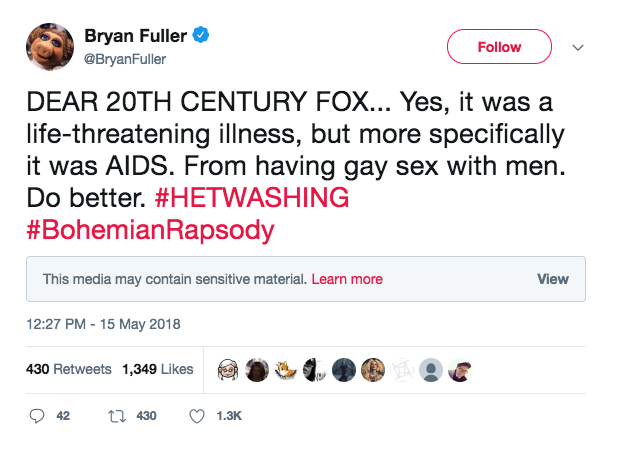 He also called on the studio to, "Do better," while including the hashtag #HETWASHING.
We thought this is interesting as we loved the 97-second teaser and seen the trailer a million times, we could've sworn we saw a glimpse of Mercury (played by Rami Malek) had a moment with another man.
Once again, we watched the teaser video in slow motion and found that scene. Take a look 33 seconds into the trailer.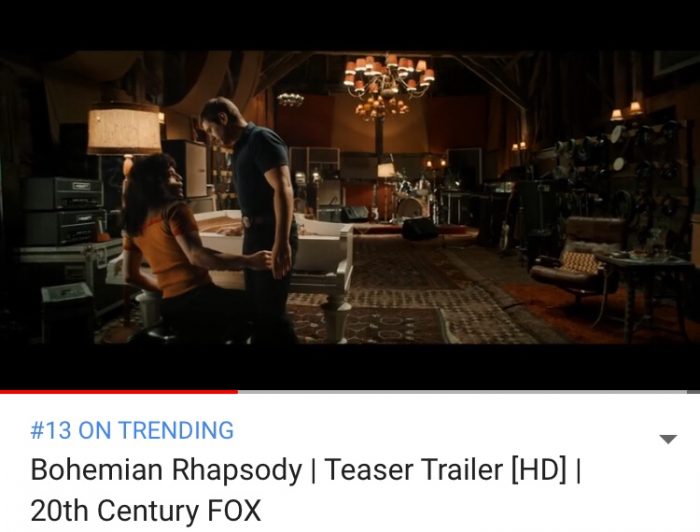 Clearly, this is proof Fox was not "heterosexual-washing". The trailer does highlight the rock legend's bisexuality.
The girl in the trailer was Mary Austen, Mercury's only true friend played by Lucy Boynton. The two had a romantic relationship which ended when the singer had an affair with a male record executive. The two remained close friends through the years until his death.
Here's hoping Fox cuts another trailer with a more in-depth look into the Mercury's sexuality to end this "heterosexual-washing".
Want to read more about Bohemian Rhapsody? Check out our previous post.