If you weren't lucky enough to be in the presence of Queen Bey on the weekend, you were probably streaming her performance on Youtube while you were drowning in serious FOMO (just like I was)!
Regardless of how you watched this ICONIC performance, it was one of the best live shows in Coachella history.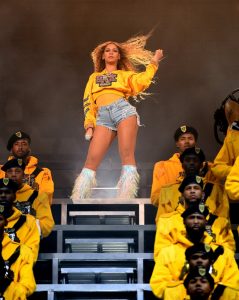 Beyonce's performance was an embodiment of empowerment, passion and pure fire. Bey strutted her stuff onto main stage wearing denim minis and a yellow sweatshirt, leading a yellow doused marching band and 100 backup dancers. Her setlist was amazing—opening with Crazy In Love, running through cuts from her 2016 album Lemonade and even climbing up a crane to sing Drunk In Love (goals!)
Above the phenomenal performance were the powerhouse collaborations. Jay-Z and sister Solange came on stage to perform featured songs, but nothing prepared any of us for the next reunion (I'm still shook). Kelly Rowland and Michelle Williams crashed the stage in their signature bedazzled khakis to reform as Destiny's Child and belt out some of their iconic songs—it was INCREDIBLE.
During the set, DJ Khaled was featured over the speakers to say what we were all thinking "After tonight, Coachella gotta rename Coachella the Beychella.  New name alert: Beychella!"
Beyonce's OTT performance was not only for nostalgic Destiny's Child fans, but rather to celebrate a party of black excellence and the sheer power, strength and talent of women of colour. Bey's show generated 1.58 million tweets within 2.5 hours and to be honest, created more hype than Coachella itself (no offence).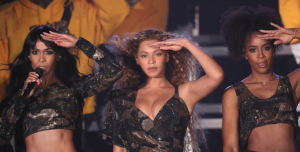 Bey shouted out to Coachella towards the end of her set saying:
"Coachella, thank you for allowing me to be the first black woman to headline."
Our response? Thank YOU Queen Bey! Xoxo