Katy Perry is amazing. She's incredibly talented, gorgeous and even down to earth. Katy  proves that even the hottest celebs have weak moments and just need a little confidence boost sometimes. Even though she's won several Grammy awards, she admits that there are days where she needs to an ego boost.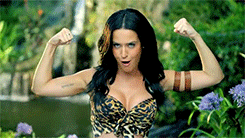 The singer revealed on Instagram that she googled a hot picture of herself, because she felt sensitive about two of her recent social media posts and wanted to get rid of the insecure feeling.
So, she changed her mood by looking up search results for "katy perry hot" and shared a stunning 2011 Rolling Stone cover shoot on her Instagram page, which shows her wearing unbuttoned denim shorts and a sexy denim bra.
"Was feeling insecure about my last two posts so," she captioned the picture.
With her last two posts on social media, Katy is makeup-free. The first photo shows the star having a face massage and looking hilarious while talking to her manager on FaceTime.
The second post shows her back in 1999 without make-up, wearing a sports bra, and was published as an April Fools' Day joke, announcing her fourth album cover would feature a 90's throw back picture of her 15-year-old self.
Katy got a lot of support and admiration from her fans, who valued her frankness with more than half-a-million likes on the post. Several fans commented that she definitely has nothing to worry about, with comments like "You look amazing", and "You deserve to feel confident in your natural state".
Thanks to Katy for making us realise that everyone gets a little down about themselves sometimes. Here's to you girl!