When we think of a typical models diet, we think small portions, gluten free and definitely no sugar. Taylah Roberts and Abbie Weir are two models taking that stereotype by the horns, along with their avid love for all things food and gifting us one of the best Instagram concepts ever.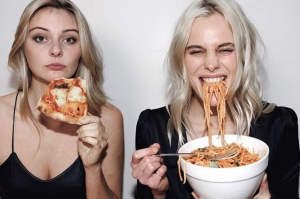 The two beautiful models who met during cycle 8 of Australia's Next Top Model in 2013, bask in the irony of their IG account—two thin and stunningly beautiful models stepping away from photoshoots and runways to, well, eat!
The Two Fat Models grid is filled with incredible food snaps, reviews and candid eating shots. But not the expected 'candid' eating shots you're thinking of. The girls photos are refreshingly BTS; everything from spaghetti hanging from the mouth and White Wings cake batter smeared on face!
The page is totally refreshing and gives us serious #foodenvy. We're privy to Taylah and Abbie's top bakery spots, editorial cheesecake shots and epic burger pics from their foodie adventures around Sydney.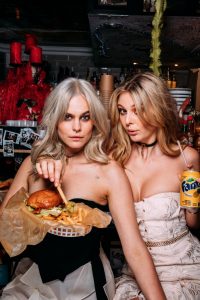 The incredible blog www.allmyfriendsaremodels.com, made a campaign of the girls showcasing the essence of Two Fat Models
Roberts and Weir were photographed by Amath Magnan, dressed in Sass & Bide and Alice McCall at Bondi Tony's Burger Joint indulging in their favourite foods.
Two high fashion models digging in to burgers, onion rings and hot chips? It's literal fashion/foodie heaven!!
The campaign left a disclaimer that *No models were starved in the process.