Remember when Miley had her weird and wonderful comeback in 2013 and released the banger tune 'We Can't Stop'?. Well, that song just caused Cyrus a lawsuit costing approximately $381 million for a copyright infringement (whoops)!
Jamaican artist Flourgon filed the $300 million lawsuit against Cyrus after she allegedly stole lyrics from one of his songs. Flourgon, real name Michael May, claimed that Cyrus copied a line from his 1988 song We Run Things. He cited the song lines "We run things. Things no run we," which Cyrus sings "We run things. Things don't run we."(We love you Miley, but they are on the similar side). Flourgon, claimed that his song has been "a favorite for lovers of reggae music worldwide" since it topped the charts in Jamaica.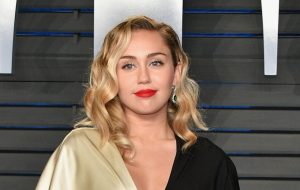 Miley's label, RCA Records, writers and producers including Theron Thomas, Timothy Thomas, and Mike Williams, as well as Cyrus' manager Larry Rudolph are also wrapped up in the massive lawsuit. Flourgon is requesting for all sales and performances of 'We Can't Stop' to cease hereinafter.
The case is currently pending in the U.S District Court in Manhattan—good luck with this one Miley!