Did someone say Glitter, gold, bodysuits and Cher?
On the 16th of February, Sydney Mardi Gras began celebrating its 40th anniversary with this year's theme being '40 Years of Evolution.' This year is set to be the biggest and best yet with as the LGBTQI community celebrate the recent legalisation of gay marriage in Australia, alongside Goddess of Pop and gay rights activist, Cher.
Having one of the most successful careers in music and film, Cher is also considered one of the greatest gay icons celebrated by the LGBTQI community and she is set to steal the show this March 3rd. A fiercely bold diva with a passion for equality, Cher has graced our radio stations with countless hits and chart toppers such as 'If I Could Turn Back Time.' Being known for her success in a male-dominated industry, Cher has always been an advocate for the minority. After her daughter, Chastity, came out as a lesbian and made the decision to transition to a male, Cher has held the cause close to her heart becoming an idol for the LGBTQI community. 
Cher announced her plans to journey to Australia over Twitter on December 30, 2017. With approximately 600 tickets left, the festival sold out within only three hours after the tweet.
With only a week to go, this will be Cher's first time performing at the event, her name being added to the Mardi Gras Hall of Fame alongside previous headliners Boy George, George Michael, Cyndi Lauper, and Olivia Newton-John.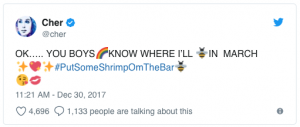 Beginning in 1978, Mardi Gras has triumphed over adversity, with the LGBTQI community raising the rainbow flag for everyone to see and now becoming one of Sydney's best and most popular events of the year. The two-week festival has paved the way for gay rights and will continue to do so this year with an exciting program catering to all ages, educating and promoting equality to everyone involved.
This year's Mardi Gras festival features the iconic parade and party as well as other entertaining events and sites such as the museum of love and protest, family fun day, flag raising ceremony, and Koori Gras celebrating the First Peoples' queer community. Be a part of the evolution and celebrate gay rights this year on the 40th anniversary of Mardi Gras.
Stay tuned for more on Aussie Gossip.