Kylie Jenner is joining the Adidas family as the face of their new Originals' campaign. The new shoe–the Falcon Dorf, will be released next month, and we can expect to see a whole lot more of the youngest Jenner.
Adidas are reviving the Falcon Dorf shoe, which originally came out in the late 90's. The trainer is available in a light baby pink, and fulfills all the 'dorky dad' looks of our dreams.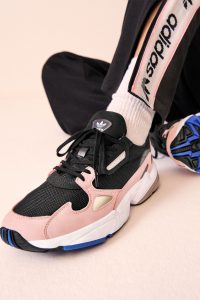 Jenner has never been one to shy away from bold fashion choices, and her 114 million Instagram followers know this firsthand. Sneakers are a staple to any outfit, according to the style icon.
"Nowadays, a sneaker is worn with almost every kind of outfit," she told Refinery29.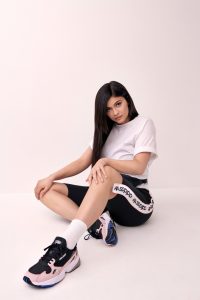 "Being bold and trying something new is almost the best way to create a look that's individual to you — wear every sneaker with confidence and it's automatically a look."
This is not the first time Jenner has posed as the face of an athletics brand. In 2016, competing sportswear brand Puma announced that the social media star was going to be their new ambassador. The launch caused a stir within the Kardashian family, who are all loyal Adidas followers. The star has now jumped ship over to Adidas after her brief stint with Puma.
The Kylie Cosmetics CEO and mother-of-one joins sister Kendall Jenner and brother-in-law Kanye West who have also headed different campaigns for the brand.
Don't forget to follow us on Facebook and Instagram, and stay tuned for more Aussie Gossip!