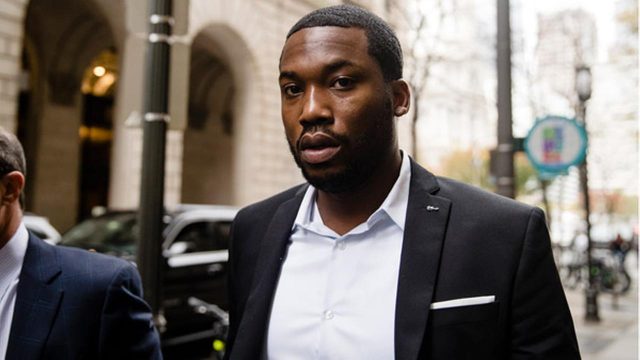 Rapper Meek Mill was released from prison yesterday after being sentenced to nearly four years in prison for violating probation on a nearly decade-old gun and drug case. Meek Mill issued a statement saying his time in jail had "been a nightmare" but he will now work with his legal team overturn his "unwarranted conviction."
"Although I'm blessed to have the resources to fight this unjust situation, I understand that many people of color across the country don't have that luxury and I plan to use my platform to shine a light on those issues," Meek Mill said in a statement before his release Tuesday.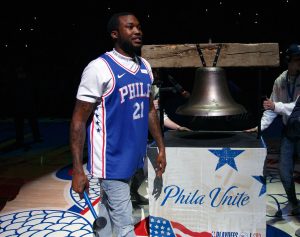 "In the meantime, I plan to work closely with my legal team to overturn this unwarranted conviction and look forward to reuniting with my family and resuming my music career."
The Philadelphia-born rapper was transported via helicopter from the prison in Chester, and made his first appearance out of jail in Meek Mill style. Mill attended an NBA playoff game and rang the ceremonial bell at the start of Game 5, Philadelphia 76ers-miami heat playoff series. The rapper wore a Joel Embiid jersey and sat court side during the game.
While Meek Mill was behind bars, a five-month campaign was in progress by his supporters in a bid to get him out. The state Supreme Court on Tuesday directed a Philadelphia judge who had jailed him to immediately issue an order releasing him on unsecured bail.
Friend and supporter Kevin Hart made a statement about the rappers release:
"I think the good with the situation is that he now has a platform. And I think coming out, he will be able to use that platform to really shine a light on how corrupt this system is and hopefully also keep this younger generation from going through this. And also, a lot of people that are incarcerated now that are doing unnecessary time."
https://www.instagram.com/p/Bh-SU-NlNKR/?taken-by=nba
Fingers crossed justice prevails for Meek Mill from this point forward!
Stay tuned for more Aussie Gossip.