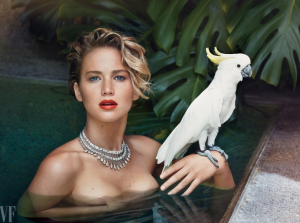 We all love Jennifer Lawrence for her blunt humour and charming nature.
J-Law stuck to her upfront reputation during a recent interview with The Sun as she delved into her extreme 'germaphobe' tendencies towards sex and her fears of receiving any unwanted sexual memento's from any casual partners she may have. Lawrence took things one step further when she claimed that "D-ck is dangerous. If I was at the point where I could get an STI, doctors have already been involved. That is how much of a germaphobe I am."
The Red Sparrow star continued by speaking of her extreme dislike towards one-night stands. "…the truth is when I look back at my sexual past it was always with boyfriends", "I talk like I like it, but I don't really do it" Lawrence admitted.
Lawrence split from her partner Darren Aronofsky in November 2017, and we can now confirm she definitely hasn't been jumping from bed to bed since!
We can always count on Jennifer to keep things…candid!