Princess Eugenie rocked a Peter Pilotto gown
The Princess wore a stunning off the shoulder wedding gown with a full skirt and long train. She asked specifically for the gown to have a lower back to show her scar from Scoliosis surgery. There were a number of symbols woven into the dress, including a thistle of Scotland to represent the couple's love of Balmoral, a shamrock for Ireland where Fergie's family is from, the York rose, and ivy for the couple's home.
Eugenie also got to wear a tiara, courtesy of her Granny, the Queen, and is one that no one in the Royal family has worn before. The Greville Emerald Kokoshnik Tiara features diamonds and emeralds. Jack gave his bride matching diamond and emerald earrings to match for the special day.
The groom wore his glasses
Jack looked very nervous waiting for his bride, and was seen blowing into his hands and fiddling quite a bit. He was also wearing his glasses, something he doesn't often wear to public events, however it's clear that he wanted to see his bride walk down the aisle with 20/20 vision. As soon as he saw her, he was beaming and whispered to his brother and best man "my heart." When Eugenie reached him, he took off his glasses and looked to be tearing up. How sweet!
Untraditional Maid of Honour
Princess Beatrice was Eugenie's maid of honour, but she didn't follow the traditional order of events. She didn't walk down the aisle with Eugenie or the bridesmaids and pageboys. Instead, Beatrice – who wore a royal blue dress – walked down the aisle with her mother, Fergie. Beatrice didn't even stand with her sister during the ceremony. She sat with her mother in the front pews, we guess it's so Fergie didn't need to sit by herself during the ceremony. Fergie isn't known to have a very tight relationship with the royals, so this was a kind gesture from her daughter.
Jack isn't wearing a wedding band
Jack has decided that he won't be exchanging rings with his bride, because he won't be wearing one! Instead, Jack will be placing a band onto Eugenie's finger. Don't fret, it's quite common for the men of the British royal family to not wear wedding bands. Although Prince Harry wears one, his brother Prince William chose not to because he "isn't one for jewellery".
Duchess Kate wore something NEW?!
Duchess Kate has a strategy when it comes to dressing for weddings, she tends to re-wear something she has in her closet so she is not taking attention away from the bride. But on Friday, the Duchess of Cambridge stood out in a beautiful raspberry Alexander McQueen dress paired with a matching raspberry cocktail hat by Philip Treacy.
The Double Kiss
When the couple left the chapel and greeted all the well-wishers outside, they gave them a kiss. Just before stepping into their Scottish State Coach, they snuck another quick peck.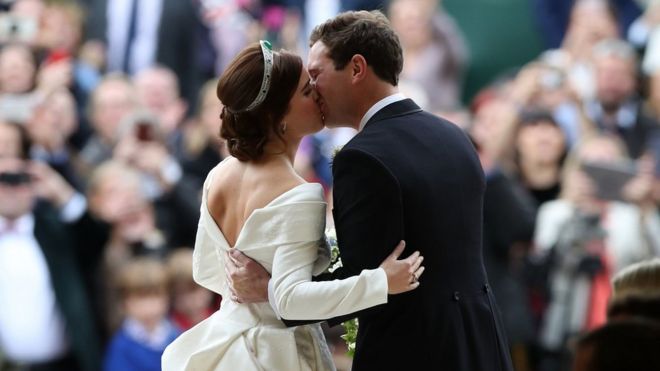 There were exe's present
Both of Prince Harry's exes, Chelsy Davy and Cressida Bonas, who attended his wedding back in May, were on the guest list again for Jack and Princess Eugenie's wedding. Eugenie is very good friends with Cressida and is actually thought to be the one who set the pair up. She also remains quite close with Chelsy, and is often seen wearing pieces from her jewellery line.
There were A LOT of celebrities
Of the 850 guests lucky enough to score an invite to the wedding, many of those were celebrities. There was Cara Delevingne rocking a suit and top hat, Ellie Goulding, Naomi Campbell, Kate Moss, Liv Tyler, Robbie Williams and his daughter who was a bridesmaid, James Blunt, Pippa Middleton who is about to pop at any moment and Demi Moore. Unfortunately, George and Amal Clooney were not in attendance. Jack works for Casamigos which is George's tequila company, so we were all hoping that the power couple would grace the castle walls again.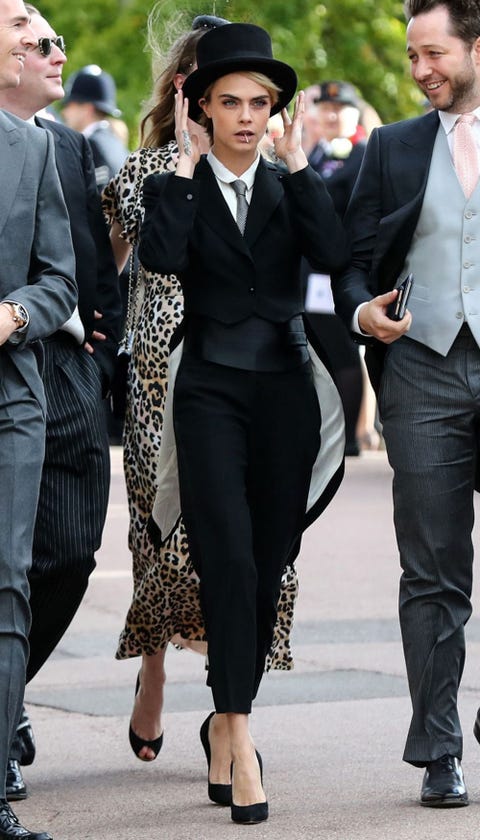 Stay tuned for more Aussie Gossip!