There wasn't much that happened yesterday that could've trumped the royal couple's exciting news –
the impending arrival of baby Sussex.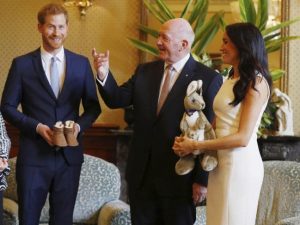 Deliveroo however, truly outdid themselves during the Royal duo touchdown yesterday. Deliveroo announced yesterday that they were coming to the rescue with their riders delivering orders straight to the crowds of royal enthusiasts who had gathered to see Harry & Meghan in real time.
As this is the duo's first visit to Australia as a couple they are in for a jam-packed week, starting off with a visit to Taronga Zoo and a royal walkabout at the Sydney Opera House yesterday.
Deliveroo made it their mission to ensure the fans would be fed, delivering food to members of the public as they waited in anticipation from the viewing area on the western boardwalk of the Opera House. Deliveroo's deal enabled people to keep their place watching the couple make their debut, while still combatting their mid-day hunger pains. Burger, Avo toast, 3 piece crispy strip box? Deliveroo covered all bases.
Deliveroo is on a mission to create the best food delivery service in the world. The company is constantly monitoring new ways to improve the customer experience and make deliveries more efficient for Deliveroo's riders and customers. This is just the beginning of unique deliveries for Deliveroo as they are set to offer food drops to beaches, boats and parks simply with the click of a button.
"Deliveroo is always looking for new ways to make customers' lives easier and if this launch is anything like last year's, we know queueing for hours will mean lots of hungry people!" says Deliveroo's Country Manager, Levi Aron.
The Royal Couple have just touched down in Dubbo to kick off their second day on Australian Soil.
Hungry? Check out Deliveroo's delicious options here!
Stay tuned for more Royal News & Aussie Gossip.