We have very exciting news for all reality TV fans… Sydney is the newest city to join the Real Housewives franchise! We'll soon be able to peer into the fanciest houses in Vaucluse and Point Piper and admire their beautiful views while we watch the not-so-beautiful bitchiness of the rich and famous.
Foxtel and Arena are teaming up to provide what is sure to be a smorgasbord of gorgeous outfits, enviable lifestyles and full on drama. Casting has happened over the last few weeks, with tv execs spotted wining and dining potential stars.
A strong contender for first cast member announced is Gordana Willesee-Poljak, a makeup artist and cosmetic tattooist who was formerly married to journalist Mike Willsesee. She has confirmed that she is in talks with producers, and says she is considering it.
Bookies are favouring Christa Billich, who has guest starred on several episodes of Real Housewives of Melbourne. Christa is the wife of controversial art gallery owner and artist Charles Billich. She has said that she thinks that being on Real Housewives of Sydney would allow her to show her bitchy side.
Tali Jatali has also confirmed her interest in being on the show. Tali is a former model who designs JATALI swimwear and owns a boutique in Bondi. Her husband is film animator Alfie Olivier.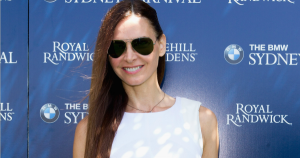 Another favourite is Amanda Cameron, another former model who has become an entrepreneur based in Double Bay.
This instagram from Amanda's account shows she, Tali and Gordana being glamorous, which may be a coincidence… or is it a celebration?
Other prominent names being thrown around are Skye Leckie, charitable figure and wife of media boss David, hairdresser Jo Bailey's business partner Marilyn Koch, and Lisa Oldfield, wife for former politican David.
Whoever it features, The Real Housewives of Sydney is sure to be full of all the bitchy backstabbing and name calling we adore in its Melbourne counterpart.