The MTV Video Music Awards have been and gone for another year. As the unqualified, incredibly biased antitheses of fashion gurus, we feel like we definitely have a right to judge the attendees on their outfits.
This year's VMA's bought the good, the bad, and the nip slips, and we were all here for it.
Here are some of our favourites, and a few that we think missed the mark:
Best:
Kylie Jenner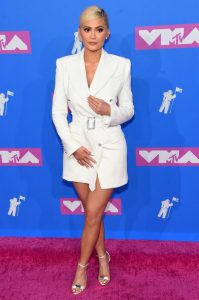 After her surprise absence from the VMA's last year, there was a lot of speculation about how the CEO of Kylie Cosmetics would make the grand comeback we were all waiting for. Kylie Jenner came back guns (and legs) ablazing in this little ensemble. Jenner is living up to the 'billionaire business bitch' look she's got going in this amazing Tom Ford blazer. And what Kylie Jenner look would be complete without platinum blonde, slicked-back hair. She's gone for a subtle, elegant and classy look for the awards show and we're obsessed.
Rating: 9/10
Karlie Kloss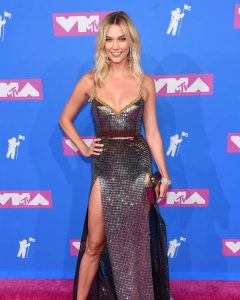 Is it any surprise that supermodel Karlie Kloss has made it to the best-dressed list? Absolutely not. Do we brag about her like this is the first time she's ever made the list? Of course. Kloss is giving off all of the best Joan of Arc vibes in this full-length, metallic Ellie Saab gown. And because Saab thought we needed another reminder of how amazing the model's legs are, the dress has two thigh-high slits. It seems as though Kloss really can do no wrong when it comes to awards season. We can't help but love this look!
Rating: 8.5/10
Millie Bobby Brown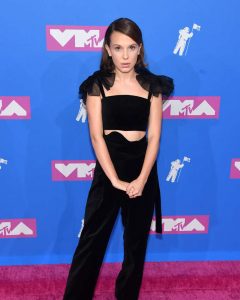 Actress Millie Bobby Brown definitely did not get anything upside down with this adorable outfit. Forget the fact that she is about ten years younger than us, but is cooler and more stylish than we'll ever be. We're not bitter about that at all. The Stranger Things actress proves that less is definitely more, rocking a Rosie Assoulin black jumpsuit complete with chiffon bows decorating the shoulders. She has gone with a minimalist approach for her accessories, wearing clear heels and one ring on her pointer finger. Understated, simple, classy, and we love it. Bitchin'.
Rating: 10/10
Shanina Shaik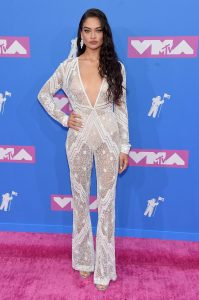 Model Shanina Shaik dazzled in this sheer Naeem Khan jumpsuit. Shaik is clearly a fan of the 'nearly-naked' look. She got married to husband Gregory Andrews in a sheer Ralph and Russo gown, and looked just as stunning as she did for the awards show. Because Shaik is Australian, that means we can take full credit for her and her outfit – so what a win for us!
Rating: 9.5/10
Worst:
Kim Petras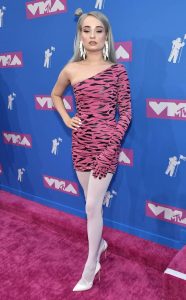 German singer-songwriter Kim Petras rocked up to the VMA's in a get-up that you knew we had to comment on. Petras is serving all of the Flintstone vibes that we didn't know we wanted – because we didn't want them. In an off-the-shoulder Moschino number complete with bone earrings and white, opalescent stockings, Petras misses the mark but at least we know the right side of her body was toasty warm during the night!
Rating: 2/10
Rita Ora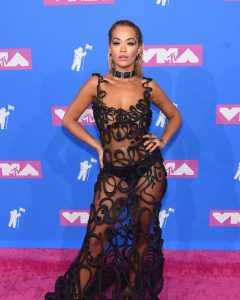 One of the most noticeable trends of the night was the 'naked look' – next-to-nothing outfits that don't leave a whole lot to the imagination. These kinds of outfits are very hit or miss. Rita Ora definitely missed. Decked out in this Jean Paul Gaultier sheer gown, Ora went of the gothic-chic look complete with wet-look hair, choker and face jewels. All we'll say is that she clearly wasn't looking for love when she found this dress. Not a fan.
Rating: 4/10
Blac Chyna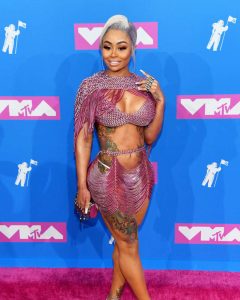 Chyna clearly only found out she was going to the VMA's the night before the show, so what did she do? She spray painted a bunch of little chains and strung them together, and BAM! Outfit complete. Chyna dressed down for the awards in a two piece number made completely out of metal strings of metal that covered just the right amount of skin. She paired the backless ensemble with a metallic pink g-string, because why not?
Rating: 2/10
Sky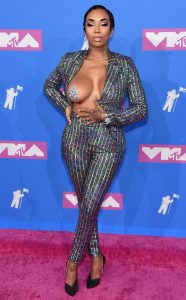 Do you have any idea who this is? Neither do we, to be completely honest. But this outfit was practically begging for us to comment on it. We're calling this the nip slip of the century. We're imaging Sky rocked up to the event all covered up, looking every bit as classy as Kylie Jenner in her blazer and pants, but with a few more bedazzles. And then when the cameras hit her on that pink carpet, she had no choice but to whip out her secret weapon – the most blingy nipple cover you ever did see. We don't even want to imagine how hard that thing must have been to take off. *shudders* Props to you, random star who was invited to the VMA's, but we'll stick to our garden-variety nipple covers that come off with minimal screaming and yelling.
Rating: 1/10