In recent posts made on her heavily followed Instagram page, Season 7 Bachelor runner-up Abbie Chatfield is fed up with being the villain.
The reality TV star recently opened up on the social media site to express her ongoing frustration with being vilified long after her season of the show wrapped in September of this year. Claiming that she has made efforts to portray herself differently in the months that have followed the show, Abbie uploaded multiple stories to her profile in retaliation to a conversation between Natalie Bassingthwaite and former Bachelor Matty J, published on the Nova 106.9 website. Within the article, while discussing a recent event that the social media star had attended, the pair claimed it was clear that she was exhibiting attention seeking behaviour and "hamming it up for the camera."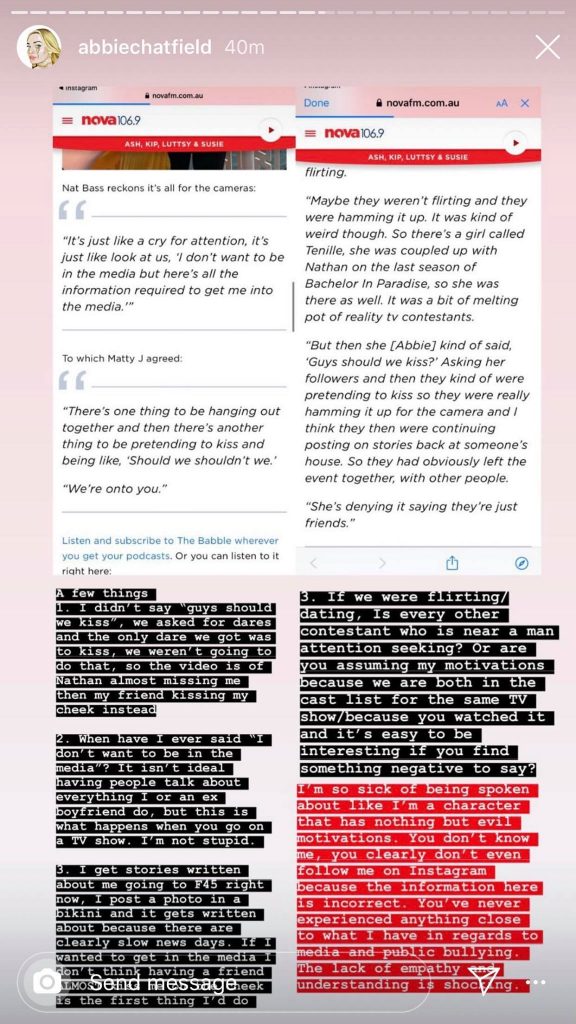 A screenshot from Abbie's Instagram story in where she first addresses the Nova article.
Whilst anyone with a working brainstem can understand that many of the characterisations and storylines that happen on show's such as The Bachelor are manipulated by the show's production team, the negative press portrayal of Abbie has been inescapable for the 23 year old since her controversial run on the show this year.
Since first airing on Australian TV's back in 2013, The Bachelor and it's sister shows, The Bachelorette and Bachelor in Paradise have become staples of the Aussie reality television landscape. Being watched by millions around the nation, the shows and their storylines are often subject to heavy media and fan scrutiny, with each of the programs becoming some of the most widespread talked about topics both throughout their runtime and well into the year after each of their collective seasons end.
In recent years, many Bachelor/Bachelorette seasons have been soaked in public scrutiny for one reason or another – whether it be Bachelor Blake Garvey's immediate shock split from show winner Sam Frost so that he could continue a relationship with third place runner-up Louise Pillidge, subsequently landing him the moniker "The Most Hated Man in Australia", or his successor, rugby star turned Bachelor Nick Cummins, who took up the mantle a few seasons later when he decided to dump both of his final two contestants on the show's widely criticised Season 6 finale.
The Bachelor/ette/BIP galvanise public attention and conversation for weeks on end every year, with much of the public deciding in perpetuity how they collectively feel about one contestant or another each season. While this can be perceived to be a fun exercise in mutually participating in the pop cultural zeitgeist, with many an office work space transformed for the duration of each season into an excited forum for debate about the show, with bets placed on potential winners and discussions of the previous night's episode deliberated throughout the day, it can then become challenging for us to remove the characterisations the show asks us to attach to each cast member once the cameras stop rolling.
Any person with the simplest understanding of reality television would most likely be of the heavily shared understanding that, whilst its best efforts to make us believe otherwise, reality TV is quite removed from reality itself. While this may make most of us feel enlightened, like we've got the upper hand and are not so easily duped, this can prove to be a dangerous opinion to hold. The viewpoint that reality television almost in its entirety happens outside of reality, as it is mostly manipulated by writers and production staff through the show's editing process, seemingly allows viewers to at times regard the people behind these shows as fictitious characters of whom we are freely allowed to comment upon, rather than actual human beings.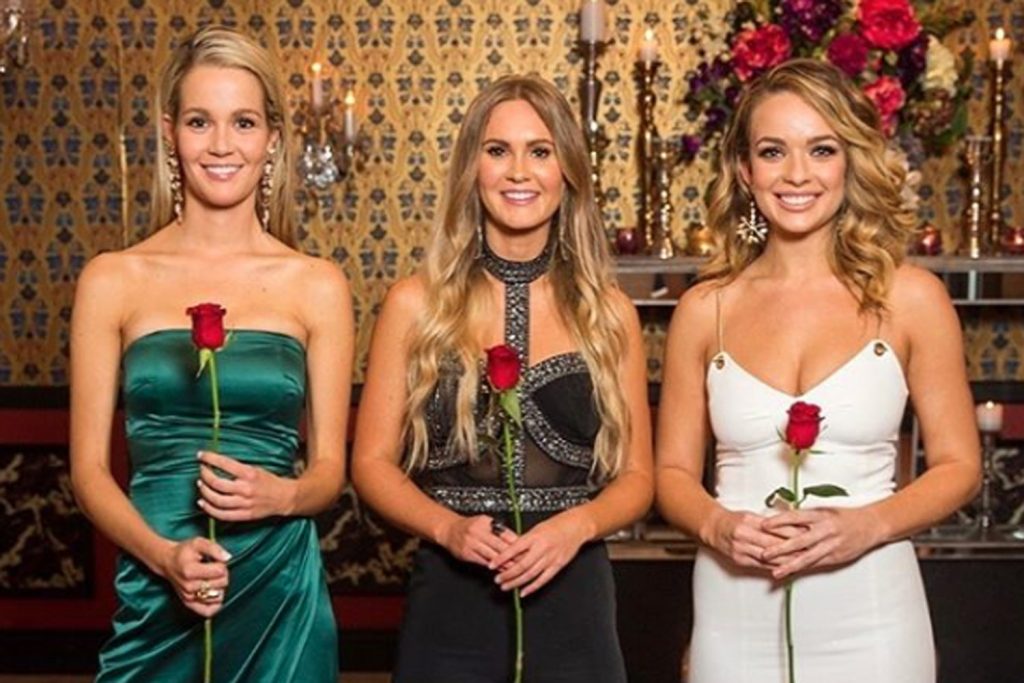 The Bachelor Australia S7 contestants Helena Sauzier, Chelsie McLeod and Abbie Chatfield via Girlfriend Magazine
For all intents and purposes, the storylines employed on shows like The Bachelor can most assuredly be understood as embellished and dramatised to maintain viewership – who in all honesty would want to watch a show about two people slowly going on dates, getting to know each other and eventually finding love while a house of twenty or so other contestants calmly watch on? What we seemingly failed to remember over the many years of the show though is that there is a life awaiting these pawns of our reality tv consumption once each season comes to a close – one of which we mostly chalk up to in the back of our minds (once stumbling back to this realisation) being one filled with influencer events, teeth-whitening promotions and pics taken for their hordes of new Instagram followers.
When these reality television stars hang up their TV star bonnets, we seem to suspend our collective understanding of the over-dramatisations for the purposes of shows like The Bachelor. While there are several examples of this happening, such as with former stars of shows such as the Nine Network's heavily lauded Married at First Sight, this can be most poignantly seen through The Bachelor's portrayal of Abbie Chatfield, and the consistent narrative this has created for her in Australian media since filming.
On Season 7 of The Bachelor, Abbie was vilified as a frontrunner with a mean streak. Capturing the attention of Bachelor Matt Agnew from early on in the piece, Abbie became the constant subject of tabloid and fan scrutiny, and was consistently pinned as the show's 'bad guy'. These inferences first came from her seeming to out fellow contestant Monique Morely for making a lighthearted joke at their Bachelor's expense that subsequently saw Monique booted off the show, to then being ganged up on by ~woke~ fellow cast members who saw Abbie for what the show made her out to be: a manipulative personality who was not on the show for the right reasons, and was duplicitous in that she would act differently around the girls than she would around Matt.
Abbie felt the vitriol from the public that came as these events unfolded on the show, reportedly having to ask a friend to control her Instagram account for the duration of the season as an onslaught of fans expressed their dislike of her. While one could argue that this is the price you may have to pay for subjecting yourself to being watched by the public week in and week out on one of the most popular shows in the country, what's more alarming is that this narrative has perpetuated into Abbie's real life outside of the show, following her around more than three months since it ended.
Since the show's run, Abbie has used her now 190K+ Instagram profile and public figure status to try to show the rest of Australia who she is out from under the guise of The Bachelor stage, even utilising her platform to speak up about body positivity and preaching self love, a brave stance amidst her ongoing battles with the media.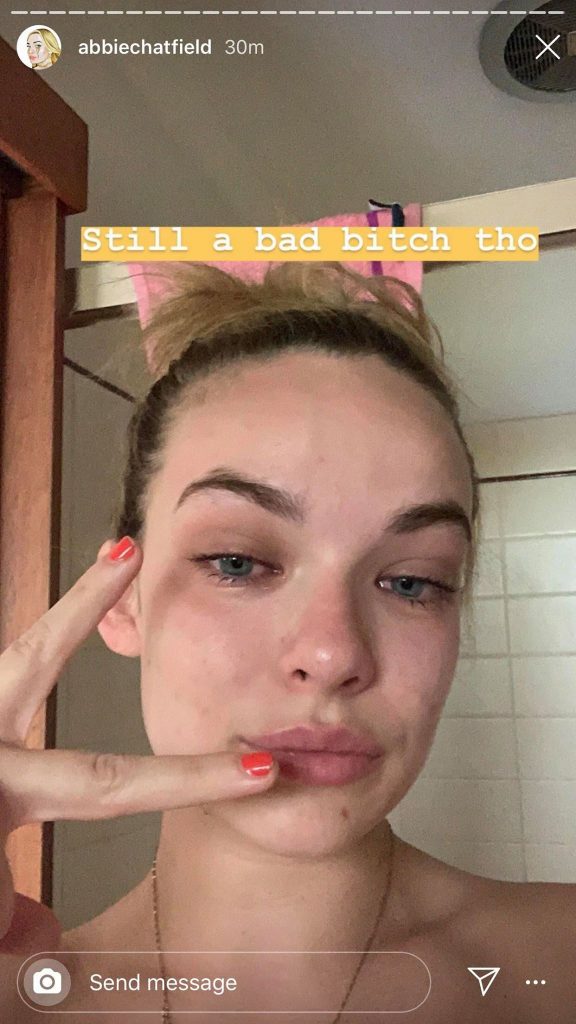 Screenshot from Abbie's Instagram story where she addressed her perpetual narrative as "the villain" 
While most of us will never know who Abbie is outside of what she decides to disclose to us via her lucrative Instagram profile or her rumoured impending feature on 2020's upcoming season of Bachelor in Paradise, it is also really not for our speculation. Although she has in the last year assumed the title of a public figure, she like many of her fellow Bachelor alumni have been subjected to incessant scrutiny where there really not be any need for it. She's just a damn girl trying to get on with her life, it's unfortunate that some of us cannot seem to be able to do the same.
Featured Image Source: Yahoo Lifestyle Australia