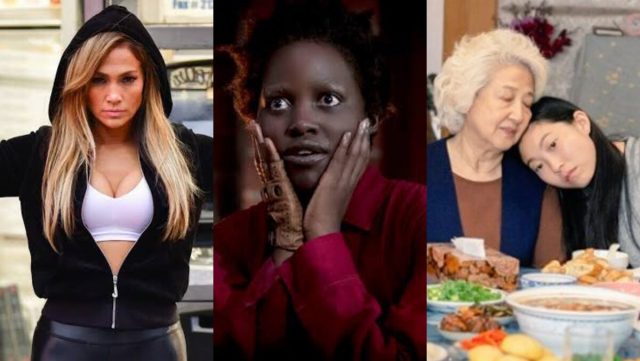 The Oscars have once again found themselves the subject of mass public outrcry this year after the much anticipated list of nominees for the awards' annual 92nd ceremony was announced this morning, with many fan-favourites and hopefuls snubbed.
Reigniting the hashtag famed in 2015, #OscarsSoWhite, many angry Twitter users took to the platform to express their outrage at the predominantly white list of nominees, as it was unveiled that Cynthia Erivo was the only person of colour to be nominated in any of the major acting categories.
Fan favourites Awkwafina, Luptia Nyong'o and Jennifer Lopez were all snubbed in their respective categories, with Scarlett Johansson controversially being nominated for both Supporting Actress and Lead Actress accolades for Marriage Story and Jojo Rabbit.
Lupita Nyong'o
Jennifer Lopez
Awkwafina

I saw more conversations about how good these 3 performances were than all of the Oscar nominees combined.

The Academy is dooming itself to irrelevancy. #OscarsSoWhite pic.twitter.com/8FKwNnvYJc

— kareem yasin (@thekareem) January 13, 2020
Take a look at this picture…now take a wild guess as to who got nominated and who didn't 😑 #OscarsSoWhite pic.twitter.com/op5APN4QnM

— N 💗 1996 ✨ (@bunniv3) January 13, 2020
Much of the outrage also sparked from the announcement of the Directing category, which for the second year in a row saw no female entries on the ballot.
While ignoring many of the big award recipients from last week's Golden Globes ceremony (hello, Taron Egerton?!), the Academy fell in step with the Globes when it came to dismissing female directors from the Directing category, despite some of 2019's most notable and acclaimed films being helmed by female directors.
Greta Gerwig, Lulu Wang, Marielle Heller, Melina Matsoukas and Lorene Scafaria were all shut out from the prestigious category, which much like the acting nominations, was heavily condemned by the online community.
to nominate Greta for best picture and best screenplay and best actresses but not best director just truly speaks to the way we don't view women as auteurs no matter how much they clearly ARE.

— Anna Menta (@annalikestweets) January 13, 2020
Issa Rae, after announcing the Best Director category: "Congratulations to those men." pic.twitter.com/Sf8KHGRMGJ

— Kyle Griffin (@kylegriffin1) January 13, 2020
After this morning's upsets, I think many of us can say we are well and truly done with this year's awards season. As the years pass, it is becoming increasingly apparent that the views and values of the Academy are extremely out of touch with that of the viewing public, and it will be interesting to see in future years to come how much attention the masses pay to self-serving events such as the Oscars when they continually reveal themselves to be so disconnected from the rest of the world.
Featured Image Source: showboxchannel.com