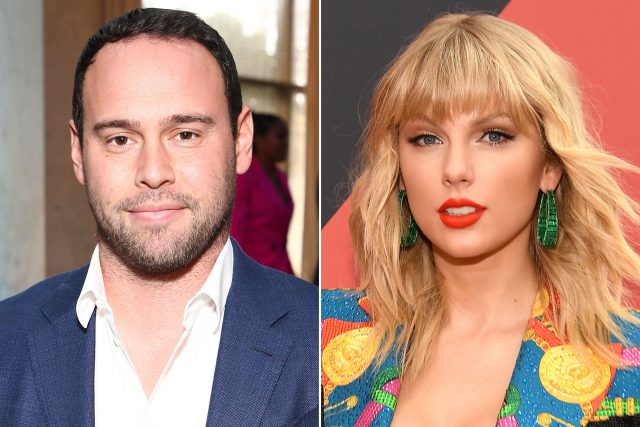 If you're anything like me, you may be wildly interested in one of the biggest celebrity feuds of the year between two people you moderately to couldn't really care about: Taylor Swift and Scooter Braun. While I don't mind the ol' Swiftie bop every now and then (the girl seriously has a never-ending list of bangers), and really only remember Scooter from that Justin Bieber documentary that we were made to watch one rainy lunch-time back in Year 8, I am obsessed with the continual updates on the unfolding drama.
Before we dive in, and trust me there is a LOT to unpack, here's the quick break-down: in summation, this 6-month long feud surrounds the notion of artist's rights, and speaks to a larger industry issue surrounding artist's ownerships of their own works. When Scooter Braun acquired Swift's old recording label, Big Machine Records, he ultimately gained control over how her life's works, spanning six multiplatinum albums and almost two decades of her life, could be used and sold from this moment going forward. Ever at odds due to some of Taylor's nemesis, including Kanye West, being represented by and associated with Braun, Swift was understandably horrified about the deal, and thus a feud for the ages was born.
This feud however is not for the faint of heart – there are a lot of moving pieces and events to unpack in order to follow how this issue all began and where it currently is now, so buckle in and I will do my best to guide you through the infamous feud that is Taylor Swift VS. Scooter Braun.
For the purposes of this article, where necessary (and due to laziness on my part and my hope for easier readability on yours), I will be referring to the Big Machine label, Scott Borchetta (Big Machine's owner) and Scooter Braun (Big Machine's buyer) as 'Big Machine & Co.' – it has a certain ring to it, no?
Our story can be broken down into 5 main acts, starting with the deal that kickstarted things off,
ACT I. Scooter Braun acquires Big Machine Records
Back in June of this year, Scooter Braun's holding company, Ithaca Holdings, purchased Big Machine Records for a reported US $300 million. Through this deal, Scooter additionally acquired the rights to all of Taylor Swift's back catalogue prior to her leaving Big Machine in 2018, spanning all of her works, from her self-titled debut album all the way to 2017's Reputation. 
Once the deal was announced to the public, Swift immediately took to Tumblr to release an open letter regarding the purchase. In her post, she claimed that she had no knowledge of the deal before it had become public news, and thus was never afforded the opportunity to purchase her master recordings herself. Swift stated to not only take particular issue with her treatment at the hands of the label's owner, Scott Borchetta, but also with the fact that the purchaser and now subsequent owner of her masters recordings was Scooter Braun, who she claimed to have suffered "incessant, manipulative bullying" from for years.
To refresh, Scooter is associated with and manages many industry heavy weights, such as Justin Bieber and Kanye West, the latter of whom is infamously known for his public humiliation and ridicule of Swift both during 2009's MTV Video Music Awards and in the following years at various points in time (if there's any feud more convoluted than this, its Taylor's on-again, off-again feud with West and his wife Kim Kardashian).
Explaining her horror at the news of the deal, Swift wrote:
"When i left my masters in scott's hands, i made peace with the fact that eventually he would sell them. never in my worst nightmares did i imagine the buyer would be scooter. any time scott borchetta has heard the words 'scooter braun' escape my lips, it was when i was either crying or trying not to. he knew what he was doing; they both did. controlling a woman who didn't want to be associated with them."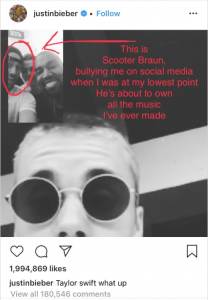 Above: a screenshot featured in Taylor's Tumblr post calling out Scooter Braun for his bullying throughout her career (source: taylorswift.tumblr.com)
However, only hours after Swift's Tumblr post went live (and ultimately, viral), Scott Borchetta refuted her claims, stating that she was indeed afforded the opportunity to buy her music back and that he had even personally reached out to her via text to warn her before the deal went public. He also went on to note that Swift's own father, Scott Swift, is a shareholder at Big Machine (he initially bought a 3% share after his daughter was signed to the label back in 2004), and thus would have been made aware of the purchase 5 days before it went public.
Borchetta claimed that "Taylor had every chance in the world to own not just her master recordings, but every video, photograph, everything associated to her career. She chose to leave".
What's interesting about this, if we circle back to Taylor's Tumblr post, is that she begins the statement by citing:
"for years i asked, pleaded for a chance to own my work. instead i was given an opportunity to sign back up to big machine records and 'earn' one album back at a time, one for every new one i turned in. i walked away because i knew once i signed that contract, scott borchetta would sell the label, thereby selling me and my future."
It's all speculative as to whether Taylor's or Scott's arguments are to be believed, or whether the truth lays somewhere between the two competing claims, however this is not the final time in this saga that we see Big Machine & Co. take Taylor's claims and seemingly half-ass refute them without addressing her entire claim – however, more on that later.
To draw this act to a close, Swift stood by her initial statements, with a representative of the star stating that her father is not on the board of directors, and ultimately chose not to participate in the shareholder phone call in which the deal was discussed due to a strict NDA that would have prohibited him from discussing the call and its outcomes with his daughter. This reaffirmed Swift's party's understanding that she did not hear about the Big Machine deal until it was made public on June 30th via social media, before any text from Borchetta was sent.
Skepticism of both camps came from members of the public and other artists alike, segueing us perfectly into Act 2 –
ACT II. Team Taylor or Team Scooter?
Many celebrities close to the pair and within the industry chose to speak out amidst the allegations:
TEAM TAYLOR
Kelly Clarkson: A fierce advocate for artist's rights, Clarkson shared some sage advice with Swift on Twitter in wake of the feud, suggesting that she re-record all of her original songs so that she could own her original works (well … at least the re-recorded versions), 
"U should go in & re-record all the songs that U don't own the masters on exactly how U did them but put brand new art & some kind of incentive so fans will no longer buy the old versions. I'd buy all of the new versions just to prove a point."
Brendon Urie: Urie, a recent Swiftie collaborator and close friend of the pop-star, took to his Twitch Stream to call out Big Machine & Co., stating,
"I read Taylor's statement and I was like, 'That sounds about right', you know. Toxic dudes doing toxic bulls**t in this toxic industry."
Cara Delevingne: In reply to a comment left by Justin Bieber's wife, Hailey Baldwin, on Justin's long-winded Instagram post in defence of Scooter Braun (which you can find in Team Scooter below), which read 'gentleman', Delevingne replied,
"Gentleman? @haileybieber @justinbieber you must be bored. I wish you spent less time sticking up for men and more time trying to understand women and respecting their valid reactions … As you said, you haven't spoken to her in years which means you definitely don't understand the situation."
Iggy Azalea: Iggy weighed in on the timing in which Big Machine & Co. allege that they notified Swift of the deal, arguing that even if this is true, it still would not have allowed enough time to give Swift any type of chance to buy her own music,
"Telling someone about a deal days before it's public means that the deal was already done and she never had the opportunity to even make a bid to own her own work. These deals take months to negotiate in long form."
Martha Hunt: The Victoria's Secret Angel and close Swift ally tweeted,
"Taylor doesn't deserve for someone who has constantly BULLIED her to OWN THE RIGHTS to her blood, sweat + tears. It's not the dark ages – artists shouldn't be held down, and I couldn't be prouder of my friend for standing up for what's right. End of story."
Ariana Grande: In a completely controversial move, it would appear that Grande, a client of Scooter's, has sided with Swift after she unfollowed Braun on Instagram. She is joined by a long list of celebs who have reportedly unfollowed the mega manager since the feud began, including Selena Gomez, Billie Eilish, Joe Jonas, Rihanna, Britney Spears, Harry Styles, Nicki Minaj and Miley Cyrus.
TEAM SCOOTER
Justin Bieber: Arguably one of Braun's most notorious celebrity clients (and let's be real, the only reason I even knew who the hell this dude was when this all began), the Biebs was one of the first celebs to weigh in on the issue, sharing what in his estimation we can only assume he thought was a well-meaning and appropriate rebuttal to Swift's claims. He began by apologising for the screenshot featured in Swift's initial Tumblr post, claiming that Scooter had had nothing to do with it and had even discouraged Justin from posting it, and then stated the following:
"Scooter has had your back since the days you graciously let me open up for you.! As the years have passed we haven't crossed paths and gotten to communicate our differences, hurts or frustrations. So for you to take it to social media and get people to hate on scooter isn't fair … I don't usually rebuttal things like this but when you try to deface someone i loves character thats crossing a line (sic)."
Yael Cohen: Braun's wife came out swinging, defending her husband and stating,
"Let's get the facts straight. You were given the opportunity to your own masters, you passed. Interesting that the man you're so 'grossed out' by believed in you more than you believe in yourself. Your dad is a shareholder and was notified, and Borchetta personally told you before this came out. So no, you didn't find out with the world."
Demi Lovato: Whilst not outwardly refuting any of Swift's allegations, Lovato did share her support for Braun via her Instagram Story,
"I've dealt with bad people in this industry and Scooter is not one of them. Personally, I'm grateful he came into my life when he did. Please stop 'dragging' people or bullying them. There's enough hate in this world as it is …" 
ACT III. Taylor chooses to re-record all of her masters
As the very wise Ms Kelly Clarkson suggested, (however it's probably more likely that this was an option already being considered by Taylor's camp before Kelly shared the insight), Taylor announced she will re-record all of her masters in 2020.
After signing with Republic Records in 2018, Swift negotiated her new contract to stipulate that she would own the rights to all new material she records for the label in the future, meaning that the rights to new recordings of her back catalogue would be owned by her. This option would give licensers (such as movie and television productions, networks etc.) the option to approach her team directly to use her works rather than Braun, and would avoid them having to pay Big Machine any subsequent licensing fees.
When the feud began, many speculated as to whether Swift would re-record her masters, with rumours floating around in August that this was an option the singer was considering after snippets of an interview with Tracy Smith for CBS Sunday Morning showed that when posed with the question of whether she would re-record her albums, the 29 year-old responded "Yeah, absolutely".
These rumours were finally confirmed when Swift appeared soon afterward on Good Morning America, where she stated:
"It's something i'm very excited about doing because my contract says that starting november 2020, so next year, i can record albums one through five all over again. i'm very excited about it."
This raises additional questions as to when, if ever, Swift will be able to re-record her acclaimed sixth studio album recorded with Big Machine, 2017's Reputation. 
This seemed to ultimately, however, settle the issue with both parties going their separate ways, and Taylor free to re-record her own hits when it was contractually viable, until …
ACT IV. The American Music Awards Saga
The feud sparked alight again this month when Swift once again took to social media to claim that Big Machine & Co. were barring her from performing a medley of her old hits at the 2019 American Music Awards, where she was being honoured as Artist of the Decade. She also claimed that they were additionally stopping producers from using her old material and archived footage in a documentary about the singer's life set to appear on Netflix.
What is the issue with Swift performing her own works, you may ask? I too was initially confused, however the argument has been raised that to perform her songs on a live-telecasted show would be to "re-record" them before the contractual stipulation has been lifted in November 2020.
The artist claimed that she had been advised by Big Machine that she would only be allowed to perform her back catalogue at the awards and have them used within her documentary should she "agree not to re-record copycat versions of [my] songs next year (which is something I'm both legally allowed to do and looking forward to)" and was also told that she and her team "need to stop talking about him [Borchetta] and Scooter Braun." She encouraged her fans to speak up and let both men know how they feel about the allegations at hand.
A day after Swift relayed the new details of her ongoing feud with Big Machine, the label once again refuted her claims, saying that they had been based on false information cited by Swift: "At no point did we say Taylor could not perform on the AMA's or block her Netflix special. In fact, we do not have the right to keep her from performing live anywhere."
As we can see from earlier in this saga however, this becomes fishy as Big Machine's statement does not respond to Taylor's claims entirely – of course she would be able to perform at the AMA's, however they did not address what music she would and would not be allowed to perform. And of course her Netflix documentary can still be made, but with what music?
In addition to refuting her claims, the label also stated that in continuing to raise this issue publicly, Swift had ultimately enlisted her fanbase "in a calculated manner that greatly affects the safety of our employees and their families."
Not going down without a fight, a spokesperson from Swift's team released an additional counter-argument which included parts of an email allegedly sent to the team from Big Machine in October, which stated, "Please be advised that BMLG will not agree to licenses for existing recordings or waivers of its re-recording restrictions in connection with these two projects: The Netflix Documentary and The Alibaba 'Double Eleven' event." The statement continued to claim that Scott Borchetta had "flatly denied the request for both the AMA's and Netflix."
The hashtag #IStandWithTaylor began trending on Twitter in light of the new allegations, with more celebs such as Cher, Lily Allen and Gigi Hadid coming out in support of Swift, with long-time pal Selena Gomez taking to Instagram to write:
"It's greed, manipulation and power. there is no heart or thought of anyone elses (sic). no respect for the words my friend has written since she was a 14 year old in her bedroom … you've robbed and crushed one of our best song writers of our time an opportunity to celebrate all of her music with fans and the world."
Braun supporter Justin Bieber also decided to weigh in again, screenshotting and sharing an article by TMZ entitled, "Taylor Swift free to Play All Her Hits During AMAs … Big Machine Can't Stop Her".
On November 18, Big Machine Label Group announced that they and Dick Clark Productions had come to an agreement that would approve their artists' performances to "stream post-show and for re-broadcast on mutually agreed platforms, including the upcoming AMA's." Funnily enough however, Dick Clark Productions told Entertainment Tonight after the statement was released that at no point in time had they ever agreed to release any such statement with Big Machine regarding Taylor's performance at the 2019 AMA's.
ACT V. What is the status of this feud today?
Today (Monday in Australia, Sunday evening in America), Swift took to the stage at the American Music Awards and sung a medley of some of her largest songs of the decade, The Man, Love Story, I Knew You Were Trouble, Blank Space, Shake It Off, and her debut single and title track off this year's smash album Lover. 
Reports also surfaced this past weekend of Scooter Braun claiming to have received threats from Swift's fans, with the manager taking to Instagram to address her directly:
"Since your public statement last week there have been numerous threats directed at my family. this morning i spoke out publicly for the first time saying i wouldn't participate in a social media war. however i came home to find my wife had received a phone call threatening the safety of our children … i assume this was not your intention but it is important that you understand that your words carry a tremendous amount of weight …"
This is not the first time since the beginning of this ordeal that threats against those associated with Big Machine have come to light, with the label's offices in Nashville, Tenessee being closed early on November 15 due to surmounting threats made against staff.
In his address on Instagram, Braun once again invited Swift to meet with him to bury the hatchet, claiming that he hopes the artist is willing to speak with him directly rather than address the issue further via social media,
"Moving forward i would like to find a resolution. i will make myself available whenever works for you. Many have told me that a meeting will never happen as this is not about truth or resolution but instead a narrative for you. I am hopeful that this is not the case. But if you would prefer to make large public statements while refusing to work towards resolving things amicably then I just pray that nobody gets seriously hurt in the process. i continue to wish you the best and hope we can resolve this."
No reports as to Swift's response (should there be any) have surfaced as yet, so time will tell whether today's performance at the American Music Awards will see the end of this feud.
Featured Image Source: ew.com