Snapchat seriously needs to simmer down. First Kylie Jenner, Now Rihanna? Maybe poking fun at domestic violence wasn't the best move!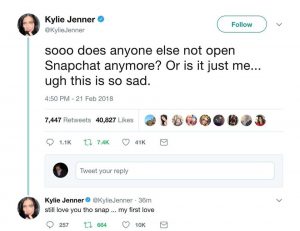 We're all familiar with Snapchats weird advertisement page that's riddled with "which food are you depending on what state you live in" and shocking Kim Kardashian clickbait. Well, they recently posted a new 'Would You Rather' game and it's safe to say it backfired (to say the least).
Snapchat put up a totally offensive ad for a game asking users to vote on whether they would prefer to 'slap Rihanna' or 'punch Chris Brown', blatantly making a joke of the violence Rihanna endured during her and Brown's 2009 relationship.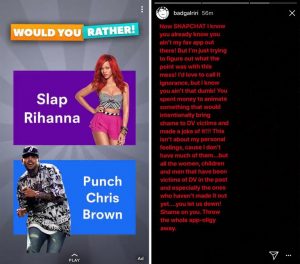 The Ad was promptly removed but didn't contain Rihanna's disgust towards the ad. Rihanna took to her IG story to expose Snapchats inappropriate shade.
"Now SNAPCHAT I know you already know you ain't my fav app out there! But I'm just trying to figure out what the point was with this mess! I'd love to call it ignorance, but I know you ain't that dumb!" she wrote.
"You spent money to animate something that would intentionally bring shame to DV victims and made a joke of it!!! This isn't about my personal feelings, cause I don't have much of them…but all the women, children and men that have been victims of DV in the past and especially the ones who haven't made it out yet….you let us down! Shame on you. Throw the whole app-oligy away."
A few short hours after Rihanna publicly shamed Snapchat, the company's shares fell 6% (that's a loss of $6 billion in one afternoon). The aftermath of the incident has resulted in Snapchats market value dropping a mammoth $800 million.
Time to stop targeting such powerful women Snapchat, you're only hurting yourself.