As if Beyonce wasn't already everything a woman could be and more, she'd just added Humanitarian to the list.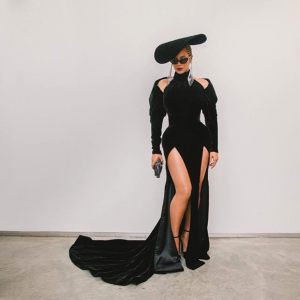 Jay-Z and Blue Ivy attended the second annual Wearable Art Gala in support of Beyonce, who was honoured for her incredible humanitarian work. The Wakanda themed gala was inspired by the astonishing aesthetic of Black Panther and held at the WACO Theatre in LA over the weekend. The Gala was organised by Tina Knowles and her Husband Richard Lawson. Bey received the 2018 Waco Theatre Humanitarian Award on stage with Hannah Brammer, a fan with Brittle Bone Disease who Beyonce has stayed in contact with and sent birthday wishes to for the past few years.
In an emotional speech, Beyoncé said that she doesn't feel that awards should be given out for the kind of humanitarian work that she does, because "the giving is the reward and that's enough."
"I try to keep my charitable work quiet because I feel like these things should come from the goodness of your heart and nothing orchestrated as a campaign," continued Beyoncé. "And if I'm honoured, I keep it quiet because I feel like I could be doing more."
Attendee and close friend Michelle Obama also sang Bey's praises in a message recorded for the event, "I love you, I am inspired by you. I'm so honoured and proud of everything that you have achieved and everything that you have contributed to our country and our world."
What a woman!