Yesterday the trailer dropped for Ed Sheeran's documentary 'Songwriter.' The documentary is filmed by Sheeran's cousin Murray Cummings and will feature an "intimate and personal look into the writing process" of the popular album '÷.'
The trailer teases "never-before-seen home videos" and gives fans an insight into Sheeran's life and the creative process behind his music.
For director Murray Cummings this was the chance to show audiences "the Ed that I see every day… Dressed down, chilling out, writing a bunch of songs." Cummings has been an integral part of Sheeran's career since he first started out attending small gigs in London and crashing at Cummings' flat.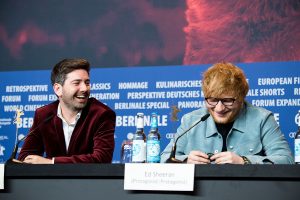 Unlike other documentaries that include the favoured documentary characteristic of interviewing friends, family and relevant figures in Sheeran's career, this one takes a much more organic approach. Murray follows Sheeran on-the-road, casually riffing on his guitar and hanging out with his friends – who also happen to be incredibly talented musicians – Johnny McDaid, Julia Michaels and Blanco. Each of whom contributed to hit tracks in the '÷' album.
In an interview with Time, Cummings revealed what he thought people would find the most surprising fact about Ed Sheeran to be:
"Ed's kind of an open book, so I'm pretty sure everyone knows exactly what he's like. And if you don't, he tells you all in his music anyway. That's something I struggle with actually — if they want to know anything about him, they can just listen to his songs, they don't have to really watch the documentary [laughs]! But to answer your question, people would always say, "Oh, it must be so rock 'n' roll being on the road." But to be honest, me and Ed, when he finishes a gig, we get a bottle of wine and a box of cheese, and we just go to the back of the tour bus and watch The Simpsons. Not very rock 'n' roll at all."
Check out the full interview with Murray Cummings at Time here.
'Songwriter' is released on August 28th on Apple Music.
Source: Ed Sheeran
Stay tuned for more Aussie Gossip!