Taylor Swift's career has been built on broken hearts and heartbreak. For every 'Love Story' there's a 'We Are Never Ever Getting Back Together.' Swift has even addressed her love-them-then-hate-them (then-write-a-song-about-them) reputation in 'Blank Space.'
So when fans notice a minute change in Swift's behaviour they fully expect the next breakup storm to be brewing. The rumours of said storm centred around Taylor's current boyfriend Joe Alwyn.
How long Taylor has been together with Joe is actually kind of a mystery. There's been a lot of guesswork with fans speculating that their first meeting was at the Met Gala in 2016. The song 'Dress' contains the following revealing lyric: "Flashback when you met me / Your buzzcut and my hair bleached / Even in my worst times, you could see the best of me."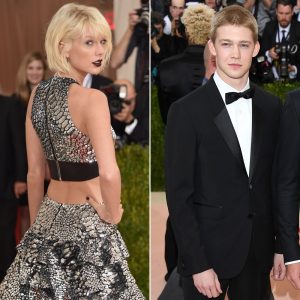 Fast-track one Hiddleston later to June 2017 when the couple were spotted together for the first time in public. The months following saw the release of Taylor's album 'Reputation' which contained a number of references to Joe. She mentions his "Ocean blue eyes" in 'Gorgeous' and more importantly says "I want to wear his initial / On a chain round my neck, chain round my neck / Not because he owns me / But 'cause he really knows me" in 'Call It What You Want.' Taylor has since been photographed a number of times wearing a "J" pendant.
Given that Taylor had been seen wearing the necklace nonstop across her social media platforms, when she left her New York apartment without the necklace while Joe was at Wimbledon, and didn't wear it to the Billboard Music Awards, conspiracy theories ran wild.
Short of shouting 'I didn't lose the handkerchief Othello!' Taylor quickly remedied the situation. She left her apartment on Sunday in a floral print romper with the necklace dangling around her neck.
All unnecessary necklace drama has been solved and it looks like Taylor and Joe are enjoying their happy and private romance away from the spotlight.
Stay tuned for more Aussie Gossip!