Yep. Henceforth, the 6th of July will be known and celebrated annually as Kevin Hart Day (in the city of Philadelphia, Pennsylvania). The day of the comedian's birth will treated as a holiday in his hometown. It's definitely a thing you guys.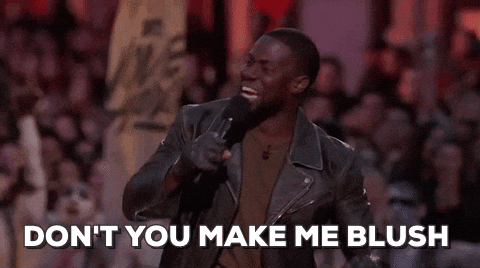 At the reveal of Kevin Hart Day, Hart said: "I truly to believe that Philadelphia made me into the man I am today."
He continued: "This is probably the biggest honour that I have gotten in my career to date." How adorable is that?
This firecracker of a funnyman might take a while to grow on you (and his short stature shows that he had trouble growing physically), but it didn't take long for him to grow on this wall…as a gigantic mural by Philadelphia-based visual artist Willis "Nomo" Humphrey. The artwork is painted onto the outside of Max's Steaks, where he couldn't even afford a single cheesesteak in his adolescence.
Kevin's older brother Rob Hart cheekily said to the crowd: "Do not write on my brother's mural for at least a month."
Sorry mate, no guarantees there.
The 47-year-old comedian and actor was praised for the inspiration and charitable work he has provided to the city.
"[Kevin has] given $400,000 to our schools and is really a top notch entertainer," said Councilman David Oh. That's incredible!
Kevin has completed 5 comedy specials this year, and will star in the sequel to 1995 film Jumanji, entitled Jumanji: Welcome to the Jungle with his Central Intelligence costar Dwayne "The Rock" Johnson, Jack Black, Karen Gillan, and Nick Jonas.
He's been in an insane amount of films, but his best role and finest work is definitely voicing Snowball in The Secret Life of Pets. Don't you agree?