Most of the time when celebs get asked for fan selfies, it's no big deal. A quick smile, a snap, and everyone walks away happy. But that wasn't the case when Ed Sheeran was asked for a photo by a female fan this week.
Unfortunately, the chart-topper fell victim to a perfectly-timed gust of wind, and the results were nothing short of magnificent.
I met Ed Sheeran today and & a gust of wind made my pic with him 10x more exciting pic.twitter.com/9TxR1TE1VG

— Talia Calandra (@taliacalandra) March 9, 2017
If that doesn't put a smile on your face today, then I'm sorry, but I don't think anything will. Sorry Ed, but I don't think many people will be in love with that shape of you!
When the fan uploaded the photo to Twitter, the internet went into absolute overdrive with comparisons, as was obviously going to happen.
There were the obvious parallels drawn with everyone's favourite target:
,@taliacalandra Looks familiar @edsheeran pic.twitter.com/Fvye9zi9pf

— Graham Tope (@monkey_wrangler) March 10, 2017
Then came inescapable links to anime characters looking like they'd been plugged into electric sockets:
@taliacalandra @veroniica_rmz pic.twitter.com/KqBqeyGyoW

— Shii🌈🦄💫 (@zhiira_malik) March 10, 2017
I'm also noticing comparisons with everyone's favourite pyromaniac, Seamus Finnigan: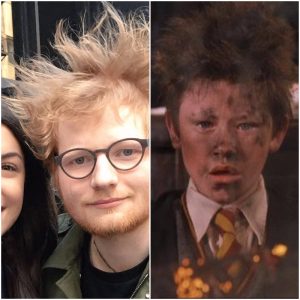 And as if all of that wasn't enough, one person took this opportunity to point out that it wasn't just Ed's music that's on fire at the moment.
@taliacalandra pic.twitter.com/FFGPIgmfum

— t÷sh 🤓 (@eds_shirtsleeve) March 10, 2017
And as though to end the debate, one user felt the need to point out the advert on the magazine in Ed's hand just to complete his humiliation:
@taliacalandra pic.twitter.com/yQvcaxNsGo

— opheli (@ojagl4) March 10, 2017
As if all these comparisons weren't amazing enough, one person has taken the game to a whole new level and actually started a Twitter page called 'Ed Sheeran's Hair'.Not all heroes wear capes. You can find it at @sheeransedhair.
Take a bow, whoever you are.
Now I'm just going to put on Ed's 'I'm a Mess' and bask in the lovely irony.