Christmas is almost upon us and there's so much to see and do before it arrives! You're probably itching to get out and about to spread your excitement about the festive season. Living in Sydney is perfect for Christmas lovers as there is heaps to do and lots to see. Almost too much sometimes! To help you narrow down your extensive options, we've searched high and low for the events you need to check out this Christmas in Sydney! So get your Santa suit on and wear your Christmas spirit to these fun activities.
1. Christmas on the Green
Start your Christmas off right by heading over to Hyde Park for a family friendly, and most importantly, free concert! It'll feature awesome children's entertainment (for the hidden child in you of course), plus a spectacular fireworks display to finish with a bang.
2. Carols in the City: Pitt Street Mall 
Experience the spirit of Christmas at Pitt Street Mall with incredible choirs belting our your favourite Christmas carols. There's nothing more heartwarming than rousing acapella renditions of all the classic holiday tunes. It's running all through December, with a final performance on December 22.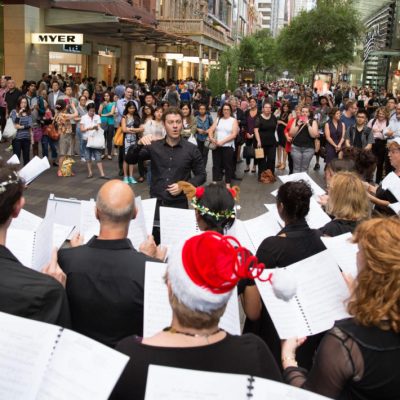 3. Boulevard of Light
Wanna be in Christmas wonderland heaven? You might want to think about visiting Pitt Street Mall during the evening for a special treat. As you stroll along, you'll find yourself underneath a dazzling canopy of suspended Christmas lights; an amazing way to spend your Thursday late night shopping.
4. Visit the Shangri-La Hotel
Why you may ask? Well, perhaps you would like an up close look at a giant life-sized gingerbread house. You can walk inside and check out the amazing intricate decorations made from lollies and all things edible. Unfortunately, you aren't exactly allowed a taste, but it'll definitely get you salivating. If you're really desperate, you can pick up a few free sweets from the lovely people there, although I suspect these are mostly for kids.
5. QVB Swarovski Christmas Tree
Yep, you read that right! You'll be able to visit the QVB only to be greeted with a massive Swarovski Christmas Tree, featuring a massive 82,000 sparkling Swarovski crystals, and 65,000 twinkling lights. Could you ask for something more beautiful? Definitely take your significant other there for a subtle present hint, ladies.