Let's all get one thing straight – Scrubs was what all of us believed the working world would be like in our teens. Us and our mates having wacky misadventures at every turn while also finding time to make the world an immeasurably better place.
And when it ended after eight glorious seasons (we don't talk about Season 9, and if you do, then you are wrong), it left a hole in our hearts that has not yet been filled. 
And it turns out that main man J.D. (a.k.a Zach Braff) still has the crazy world of Sacred Heart close to his, er, heart, as he delighted in posting a couple of snaps with former cast members at Hollywood parties, with Sarah Chalke (J.D.'s perennial love interest and general obsession Elliot) and Scott Foley (who played Sean, Elliot's boyfriend from Season 3).
And that's when I realized… pic.twitter.com/ehSEvpt1tM

— Zach Braff (@zachbraff) May 16, 2017
Nobody cares, Sean. pic.twitter.com/hseWPFvUAf

— Zach Braff (@zachbraff) May 16, 2017
And let's not forget that Braff and Donald Faison, the man behind his on-screen BFF Turk, are literally the definition of friendship goals to this day.
If you really and truly want pizza for your gay wedding in Indiana… We will make it for you. @donald_faison pic.twitter.com/y91qIkVoyt

— Zach Braff (@zachbraff) April 3, 2015
Right?
Now, obviously, the appearance of such glorious nostalgia-bait has meant the reunion rocket has been launched at full throttle by a horde of Scrubs fans. As a self-confessed fanboy for the show, I can't pretend I'm not one of them.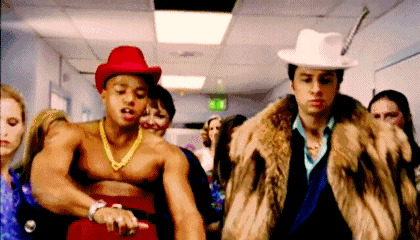 That all being said, the ninth season of the show (which, as I have already established, was just a figment of our collective imagination and didn't ever actually happen hopefully) was not exactly classic comedy, so maybe we're better off cutting our losses and just sticking with the glory of the original seasons without risking a spinoff diluting the quality.
Enough shows are touting reunions, revivals or spinoffs – there are going to be multiple spinoffs for Game of Thrones and this year sees the return of Twin Peaks as just two examples – that it shouldn't come as a surprise that any nostalgia for a franchise means calls have to be fielded. But let's be honest – everyone wants to see the Scrubs gang back together. Just once. Just for me. Please?
You know what? Let's just drop back into a Scrubs nostalgia vortex for a bit and binge-watch it all again while wishing, as I often have, that I was the voice in J.D.'s head. 
Also, check out the trailer for Zach's new sitcom, Alex Inc., coming to America pretty soon. I know what I'll be turning to when I want to stop being depressed by 13 Reasons Why.
Life doesn't have a pause button. @ZachBraff produces, directs, and stars in ABC's #AlexInc. pic.twitter.com/kbSnD8Rs57

— Alex Inc (@AlexIncABC) May 16, 2017