Miley has left us all in meltdown over her appearance at the March 26th Knicks game. The meltdown was not brought on by some high cut leotard at the game or her humping the mascot. The meltdown was brought on by what sat on her left ring finger. Cyrus was spotted at the game with her mum Trish Cyrus and her sister Brandi Cyrus.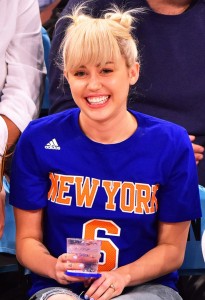 Miley was seen wearing her engagement ring! Rumours have been flying for months that the two were back together because she accompanied the Hemsworth's on their family vacation and then again because she posted photos of herself wearing the ring on Instagram.
Super vague mega shady mysterious "sources" have been saying they are back on but until it comes from the horses mouth who the fuck knows. We will however happily imagine the two of them together saving animals in their newfound passion for vegan living and also just the stellar cuteness as a couple both now as adults, and back in their teenage bliss in "The Last Song".
We think that the two are lapping up the time together without the added pressures of an official announcement and knowing how much Miley likes to troll we might never really know.