All signs are pointing to the return for one of Australia's biggest bands Sticky Fingers, with the promise of a "huge secret headliner" at Bad Friday. Marrickville's yearly block party that hosts an array of Inner West talent, is a sure fire party that is set to turn a 'Good City' bad.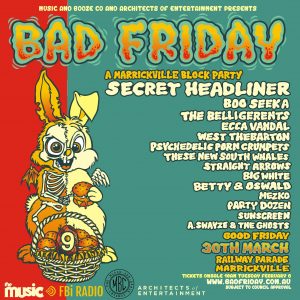 Sticky Fingers have been on hiatus for more than a year now after some issues plagued the band, in particular the mental health of vocalist Dylan Frost, who released a statement late in 2016 concerning his behaviour after multiple incidents such as chasing Thelma Plumb down the road as she was getting into a taxi.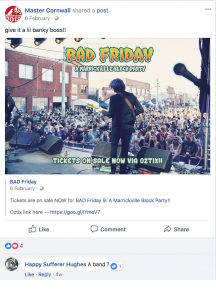 When the tickets went on sale to the public, bass player Paddy Cornwall shared the event on his personal Facebook where he goes by "Master Cornwall" (as if we'd ever call him Master!?).
In the discussion section of the event on Facebook a post received a like from the Bad Friday organisers that gave a quiet nod of approval to the commenter.

Sticky Fingers headlined the first Bad Friday at the Annandale Hotel back in 2010 and have remained vocal supporters for the event, so it mightn't be so far fetched that it would be a fitting show to return without the pressure of announcing a headline show in Sydney. Remaining a secret headliner until the day would in theory take a lot of weight off the shoulders of a band crushed by expectation that they faced from Australian music critics.
This Week Bad Friday has released multiple videos acted out by Sticky Fingers Keyboard player Freddy Crabs, recreating famous movie scenes, all for a chance to win a double pass to the event. While most have commented in the hope of winning, there has been a general theme understood by commenters saying things like "Can you blokes just come out and announce it's sticky fingers already", "Stifi headliners confirmed" and "Worst kept secret".
According to my reliable source who has a close relationship with the organisers, this seems to be a definite yes. But hey, i'll let you put the pieces together.
Make sure you stay tuned to Aussie Gossip for more information!