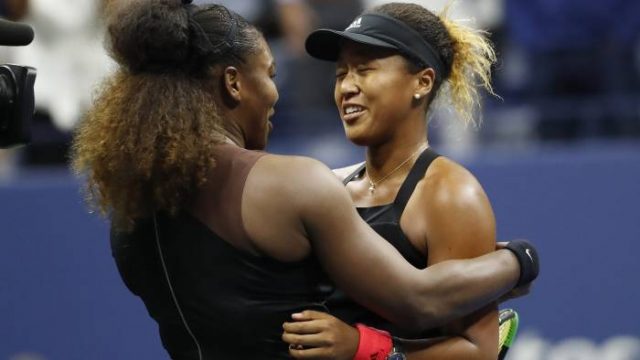 US Open winner Naomi Osaka made an appearance on The Ellen Degeneres Show on Wednesday. In typical Ellen fashion, she wasted no time in frilling the champion on the controversial events that surrounded her final match.
You know, the match which saw her opponent Serena Williams being fined $17,000 for code violations? Where Serena was very unhappy with the referee? And was accused of illegal coaching, as well as breaking her racket, and arguing with said referee?
In Ellen's normal warm and witty style, Ellen made light of the tension during the match, joking, "There was some controversy that happened on the court, did you notice that?"
Naomi explained that she tried to look away and stay focused. "When you're little, you're taught to not look if your opponent gets angry or anything, you're just told to just turn around and try to focus. So I tried to do that, but in my mind I really wanted to know what was going on."
Conversation then moved onto the moment when Naomi received her trophy, during which some members of the crowd continued to shout and boo in reference to the earlier events. Serena leaned into her opponent to whisper a few words, and Naomi revealed that they were all positive.
"She said that she was proud of me, and that i should know that the crowd wasn't booing at me," she explained.
Watch the video below to see Naomi explain further how it felt to step up to the podium for the first time, and to see Ellen try and set her up with Michael B Jordan *SWOON*