The world is mourning another devastating loss to the music industry. Singer Aretha Franklin has passed away today at the age of 76. The I Say A Little Prayer singer was admitted to hospital earlier this week, and died at 9:50 this morning. The cause of death was noted by the singer's oncologist as "advanced pancreatic cancer of the neuroendocrine type".
Franklin burst into the music scene at 18, when she was signed with Columbia Records in 1960. During her career, which spanned across almost 60 years, she was awarded 18 Grammy awards, and was the first female artist to be inducted into the Rock and Roll Hall of Fame.
Not only was she a musical icon, the "Queen of Soul" was an active advocate for the Civil Rights Movement. Her remake of Respect, written by Otis Redding, was an anthem for the Movement during the 1960s and 1970s.
Fellow singers and celebrities have taken to social media to celebrate the life of the star and remember her incredible impact on the music community. Singer Sam Smith described the star as "a bridge over troubled water".
"Every year I listen to your voice more than I did the year before and like an old friend the bond I have with your talent and music gets deeper and deeper. Farewell Mrs Franklin," Smith said in a post on Instagram.
Barack Obama also took to Instagram with a heartwarming post.
"For more than six decades since, every time she sang, we were all graced with a glimpse of the divine," Obama said. "She helped us feel more connected to each other, more hopeful, more human."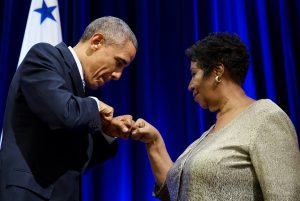 Franklin passed away at surrounded by family at her home in Detroit. Funeral arrangements will be announced in the coming days.