Every once in a while someone famous says something they come to regret on Twitter. Today it's Kim Kardashian's turn to feel the backlash for the wrong tweet.
In a now deleted tweet, the reality star said that she was happy to get the flu because it helped her shed some weight for the upcoming annual Met Gala in New York City.
"The flu can be an amazing diet. So happy it came in time for the Met lol #6lbsdown," the tweet said.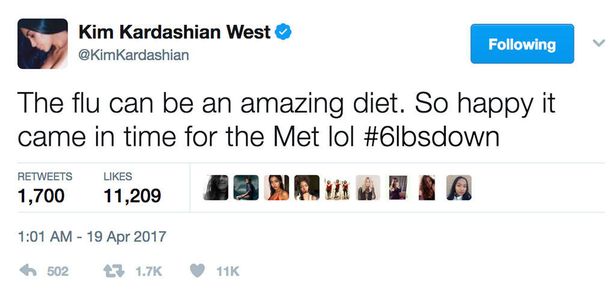 Unsurprisingly, there has been quite the backlash on Twitter, with thousands of people expressing their displeasure at Kim. The reactions range from the hilarious to the rather mean spirited.
@KimKardashian pic.twitter.com/ajDCVxCpjC

— Rain Man (@omgRainMan) April 19, 2017
@KimKardashian People also die, from the flu…but glad you feeling better pic.twitter.com/KaoQi2z9Mp

— Kevin Herringbone (@steelyDaniels) April 19, 2017
@KimKardashian Great news, you'll love AIDS!

— ▲̴̨̊̋̐̃̀̽̽ͅㅤㅤㅤㅤㅤ𓃠𓀞 (@xoiliqpiliox) April 19, 2017
Despite the backlash from her original tweet, and the fact that she deleted it, it seems Kim still has more to say on the topic.
She later retweeted some pictures of herself with the caption "flu got me like…". While some believe the tweet is her simply making fun of her original tweet, other seem to think it's her backing it up.
flu got me like… https://t.co/Lu6THLh4V0

— Kim Kardashian West (@KimKardashian) April 19, 2017
While looking and feeling good is important, getting sick to do so definitely isn't the way to go. Hopefully Kim learns from this and doesn't promote using sickness for weight loss again.