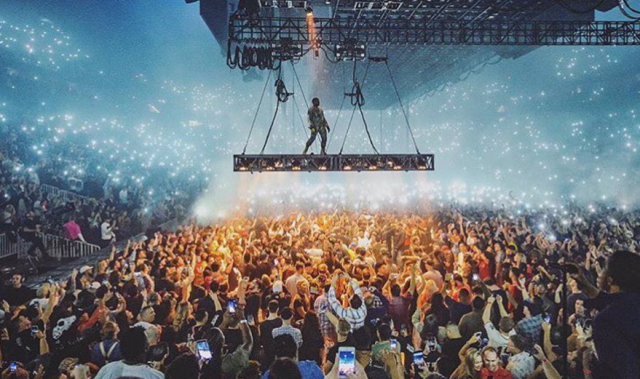 Fans are up in arms over Kanye West's decision to cancel the rest of his North American Tour after a week filled with controversial statements, political rants and inexplicable on-stage antics. Sources now claim that Kanye is suffering a nervous breakdown, prompting his decision to cut the tour short.
The news comes 48 hours after the superstar went on a wild, but not unexpected, tirade at his Sacramento show.
Three songs into his Sacramento concert, Yeezy stopped to air his views on fellow friend now turned enemy Jay Z stating,
"Jay Z, call me, bruh. You still ain't call me, Jay Z, call me,"
"Just call me. Talk to me like a man."
Just before throwing shade at Jay Z, he expressed his disappointment in Beyonce (who is still yet to respond) saying;
"Beyonce I was hurt because I heard you said you wouldn't perform unless you won video of the year over me" .
The power couple, Facebook, Google and Hillary Clinton were just some of the special mentions in the rant with Kanye ending the 10 minute tirade by challenging the press to, "have a field day", because the concert was over then and there.
Planning to make up for the performance cut short, he then went on to further cancel his Los Angeles stint, infuriating fans but also raising questions of concern.
You want Jay Z to talk to you like a man, yet you can't even show respect for your fans like a man? ? @kanyewest #SaintPabloTour

— Nick Hautman (@nickhautman) November 20, 2016
And let's not mention his public declaration in San Jose only a few nights prior, where he admitted that, if he had voted in the US election, Trump would've won his vote because his "method of communication" is "very futuristic". 
On Monday, a representative for the rapper confirmed to Rolling Stone that the remaining 21 dates of West's current tour have been cancelled. No reason was given, however fans are being fully refunded for tickets.
While fans are undecided if the recent drama surrounding the rapper is due to mental health or egotistical reasons, we wouldn't be surprised if he has decided to cut the tour short so he can start preparing his 2020 campaign.