In anticipation of the TV Chef's 'healing clinic' opening in Byron Bay later this year, we've gathered the most controversial Pete Evans claims. From Coronavirus denial to diet misinformation, we've got it all.
A $15,000 Light Machine Can Treat the 'Wuhan coronavirus'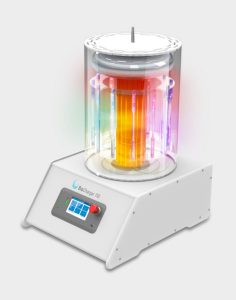 peteevans.com
Back in April, Pete Evans peddled the "BioCharger NG" on his website. A glorified light machine, Evans claimed the BioCharger could treat the "Wuhan coronavirus" in a Facebook live stream.
"It's programmed with about 1,000 different recipes, there's one in there for the Wuhan coronavirus," he said.
An "energy revitalisation platform", the machine claims to use "light, frequencies and harmonics" along with "electromagnetic fields and voltage" to naturally improve health. 
His post on Facebook was immediately flagged by the Australian Therapeutic Goods Administration (TGA) for COVID-19 advertising breaches since his claim has "no apparent foundation". 
The TGA issued a $25,200 fine to Evan's company for the advertising breaches, a small sum compared to the hefty $15,000 BioCharger price tag. 
Pete Evans – "There is no pandemic"
From coronavirus remedies to coronavirus denial, the chef posted "there is no pandemic" to his social media in June, questioning the pandemic. 
In a post since been flagged by Facebook for false information, Pete Evans claimed the virus was "less deadly than the flu" and a reason to "enslave humanity with forced vaccines". 
The site AAP FactCheck hit back at Evans, stating as of June 30, 500,000 Coronavirus deaths were recorded globally. While the World Health Organisation officially declared the Coronavirus pandemic on March 11. 
This was after the chef's infamous interview on 60 Minutes, where he suggested Bill Gates was responsible for the pandemic. 
"I don't know. I don't know. Because what Bill is suggesting, and every single interview that he has done recently is suggesting that the world will not become safe until every single person on the planet has been vaccinated for this," he said. 
His healing clinic in Byron Bay has been pictured with social distancing measures in place, with hand sanitiser and safety signs, so at least you know you'll be safe.
Paleo Diets Prevent Autism
To get you up to speed, The Magic Pill documentary was released in 2017 by Pete Evans. Narrated and produced by Evans, the documentary showcases the benefits of a paleo diet.
It follows several people suffering from chronic illnesses such as asthma and diabetes and their health transformation after adopting a low carb, high-fat diet.
One case shows a four-year-old girl with autism who, being non-verbal, can speak for the first time after eliminating processed foods and carbs. 
The Australian Medical Association labelled the documentary "ridiculous, harmful and mean".
Similarly, Autism Spectrum Australia jumped in saying although "research on the effect of diet and nutrition on autism has been increasing… there has been a lack of rigorous research studies in this field, and to date there is no sound conclusive research evidence".
Either way, Medical News Today has found paleo diets harmful with links to diabetes and heart disease due to the high levels of meat and saturated fats. 
The Dangers of Wi-fi and 5G
The same guy who spruiked the benefits of using "pulsing electromagnetic fields" in his BioCharger, warned of the dangers of Wi-fi back in 2016.
In an interview with The Age, Pete Evans told of his "earthing" practices, where by using earthing mats he could could connect to the earth negating "any of the Wi-fi issues". 
More recently, he encouraged Black Lives Matter protestors on Instagram to tear down 5G cell towers instead of colonial statues. 
In his Instagram post, he shared a meme stating, "Instead of tearing down old statues, if you could tear down those 5G towers that'd be great".
On the Evolve Podcast he said he has since invested in a device to "mitigate" the effects of 5G.
"I bought it because I wouldn't say I have a state of fear of 5G, but maybe it's better to be safe than sorry? And maybe this device that I've ordered could help mitigate it," he said.
5G is the next generation of mobile broadband with air interface connecting devices to the internet through radio waves.
Similarly Wi-fi is a radio frequency between actual radio waves and microwaves, which sends and receives data.
If you're looking for your own earthing mat, Evan's 'healing clinic' is opening in Byron Bay later this year offering 'transformational practices' like cryotherapy.  
Have an opinion on the TV Chef's claims? Let us know in the comments.