Much loved cast member Vincent Margera has died aged 59. Vincent played the popular character on the television show Viva La Bam – Don Vito.
Vincent passed away on Sunday at 6:45 after losing his struggle with kidney and liver failure which has been a battle for several years.
Tributes have poured in from the Jackass cast and crew.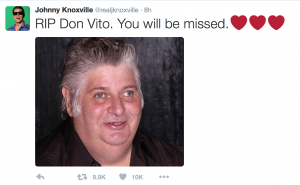 Vincent was arrested in 2006 and was ordered to cease his performance as an actor and television personality.