Happy birthday to dear Mr Reeves!
To celebrate, we thought we'd have a look back in time to commemorate the fantastic actor and some of his greatest achievements.
Often described as charismatic and down to earth, the Canadian actor has performed in several hit movies. While he had taken to the stage a few times already, Reeves didn't reach his big hit until the movie Speed in 1994, where he portrayed an LAPD cop who rescues some civilians.
The next mainstream movies that hit it big time for Keanu Reeves is the 1999 Matrix franchise, one we all should be familiar with. Being home in the action thriller genre and the role of saviour, he smashed in his role of John Wick, unsurprisingly generating a sequel in 2017. There's even said to be a third instalment coming in 2019.
Taking his role of the good guy into real life, he has set up a cancer charity as his sister suffered from leukemia for over a decade. As money is the last thing on his mind, he has gifted to organisations such as PETA, the SickKids Foundation, and Stand Up To Cancer As Well.
A long and happy life to you Keanu, and judging from the looks of things, those rumours about you being immortal are starting to seem believable!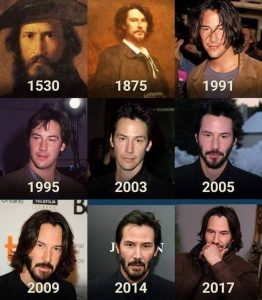 Stay tuned for some more Aussie Gossip!