This past week Forbes released their annual ranking list of "The 60 Richest Self-Made Women." On this list was Kylie Jenner and Kim Kardashian.
Twitter erupted in outrage in response to the choice to place Kylie on the list and call her 'self-made.'
Can you please explain what your definition of "self-made" is? Can it really be considered self-made when you and your family are already impossibly famous and wealthy?

— Speccy B (@hayleypdowd) July 11, 2018
I don't think anybody hates her for it. It's just a matter of pointing out that she is not self-made in exact meaning of the word. The problem is not with what she does, but with how it's being disingenuously presented by Forbes.

— Alīenor (@that_wild_wolf) July 11, 2018
"The devil works hard, but Kris Jenner works harder."

— Ash (@thebookbakery17) July 11, 2018
The best reaction to the news was Dictionary.com:
Self-made means having succeeded in life unaided.

Used in a sentence: Forbes says that Kylie Jenner is a self-made woman. https://t.co/sr8Ncd7s5A https://t.co/ehEL7Cf6KV

— Dictionary.com (@Dictionarycom) July 11, 2018
Unable to understand the reason for the backlash was Kim Kardashian who reaffirmed that her half-sister Kylie is a 'self-made' billionaire.
In a phone interview with Refinery29 she revealed her thoughts:
"I really didn't get it, because she is 'self-made' — we are all 'self-made'… What, because we came from a family that has had success? To me, that doesn't really make sense… Me, Kylie, not one [of the siblings] has ever depended on our parents for anything besides advice… That's how I lived my life with my dad [Robert Kardashian]. He never gave me anything. We might have the opportunity, but I've seen it go the complete opposite way. Nobody works harder than my sisters and my mom."
Kim flippantly saying "We might have the opportunity" is probably the most telling part of this debate. Apparently her father who provided her with an elaborate luxury home and lavish lifestyle "never gave me anything."
Whether you love them or hate them there's no arguing with their success.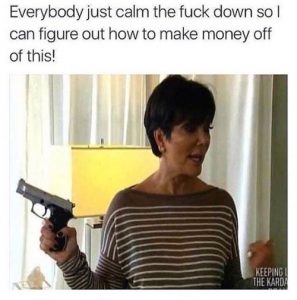 Stay tuned for more Aussie Gossip!