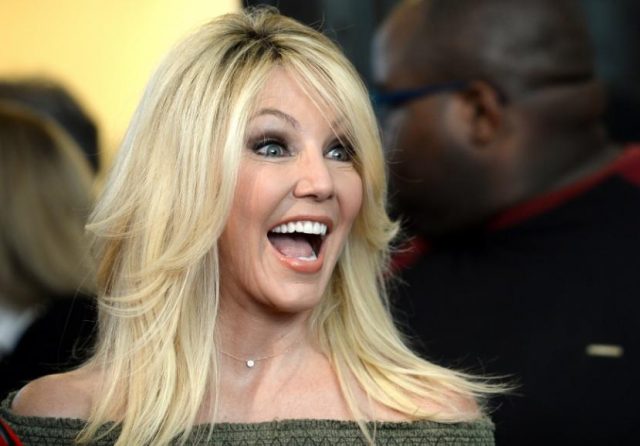 Deemed one of the most beautiful women of the 90's, Heather Locklear has found herself in hot water after being arrested for felony domestic violence.
According to E! News, the Ventura County Sheriff's Office was called to her Thousand Oaks residence at 10pm on Sunday. Reportedly, Locklear was uncooperative with police and soon became violent. After conducting an investigation into the call, it was evident that Locklear had bartered her boyfriend.
Locklear was also arrested on three misdemeanour counts of battery on a peace officer. Claiming to have been attacked by her boyfriend prior to the arrival of the officers, Locklear was taken to a hospital and medically cleared before being moved to county jail.
She was released on $20,000 bail and is due to attend court on March 13.
Locklear has been previously arrested for DUI. In 2008, authorities found her driving back-and-forth over a pair of sunglasses in a parking lot whilst under the influence of prescription drugs. ABC News reported that Locklear had sought medical help for depression during that time.
Famous for her roles in T.J. Hooker, Dynasty and Melrose Place, Locklear quickly became a household name, idolised by many, however her past hasn't always been so smooth-sailing. Locklear's marriage history has told the tale of betrayal and regret with her first marriage with Mötley Crüe drummer, Tommy Lee, ending after seven years due to a cheating scandal. Locklear then went on to marry Bon Jovi Guitarist, Richie Sambora and welcomed their daughter Ava in 1997. Their divorce came as a shock to Sambora and friends years later with reports that the couple were doing well. Locklear was reportedly filing for divorce papers the day the Sambora was denying the split in an interview.
Locklear's life began to spiral with changes in romance, jobs and her increasing depression. Her last relationship reported in late 2017 was with childhood sweetheart, Chris Heisser. It is unclear whether the couple are still dating.