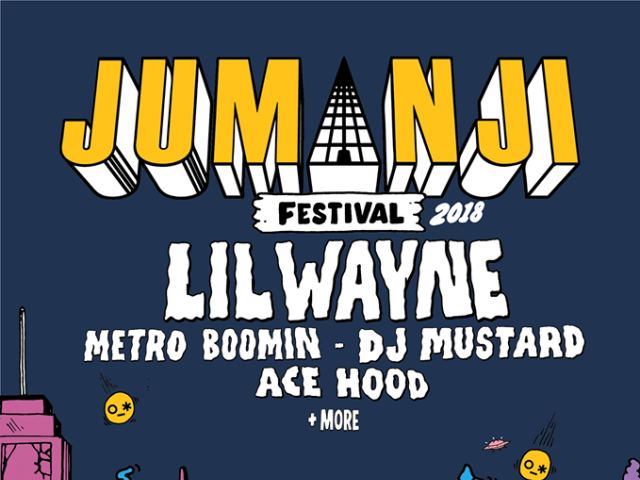 Every year we thrive for the best and most interesting new and old festivals, that showcase our  favourite artists, bands or DJs! From Boutique backyard bush doofs to huge groundbreaking and memorable festival weekends away. No matter where they are or when they are, people of all ages flock to the allocated sites to embrace music and culture. A genuine feeling euphoria and seeing as NSW alone hosts over 115 festivals per year, it's safe to say we're not going to lose that euphoria any time soon.
To add to the growing 115 is Jumanji Festival which is to be held in Parramatta Park on the 10th march.
Jamunji have pulled out the guns with acts such as International R'n'B superstar Lil Wayne, American Producer and rapper Metro Boomin, Ex Boyfriend of Kylie Jenner Tyga, American Hip Hop prodigy Wale and many more including 6 local Aussie acts!
As you can tell it's a stellar R'n'B/ Hip Hop line up, but that raises the question, where ma' girls at?
That's right, there are no female artist included in Jumanji's lineup.

Jumanji were bombarded with comments on social media platforms following their second release of artists and have received some serious backlash regarding the decision to have an all male lineup. Many readers have taken to social media to question the organizers, some even being artists of the festival. One of which included Brisbane's Mida.Gold who made a statement saying;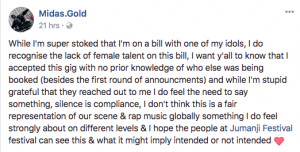 Miss Blanks a fellow Hip Hop artist also from Brisbane took to her Twitter and brought this to readers attention.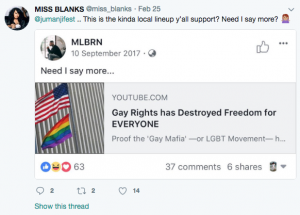 So what did the organisers of Jamunji have to say?
"The organisers of the Jamunji Festival would firstly like to acknowledge and apologise for the lack of female artists on the festival this year,"
"It was always our intention to provide the best possible line-up of entertainment across both genders and every effort was made to secure both male and female acts for this festival."
"Several high profile international female artists were approached and were either unavailable or not within our budget. We opted to secure the best possible artists irrespective of gender that appeal to the Australian hip-hop audience and we are committed to delivering an amazing experience for our patrons.
"We have acknowledged the feedback online and will ensure there is a stronger female presence on our festival in 2019."
In recent light of ABC's article posted today stating 'A collection of 45 international music festivals are addressing gender inequality by pledging towards a 50/50 gender split on their line-ups, conference panels, and more by 2022.' Jamunji's comments are simply not good enough and so raises the question, will they adjust their lineup? Will this affect their attendee's and ticket sales? Will there be a future for this festival?

Time will tell! For the meantime, stayed tuned for more Aussie Gossip.
To see more of the festival head to https://jumanjifestival.com/