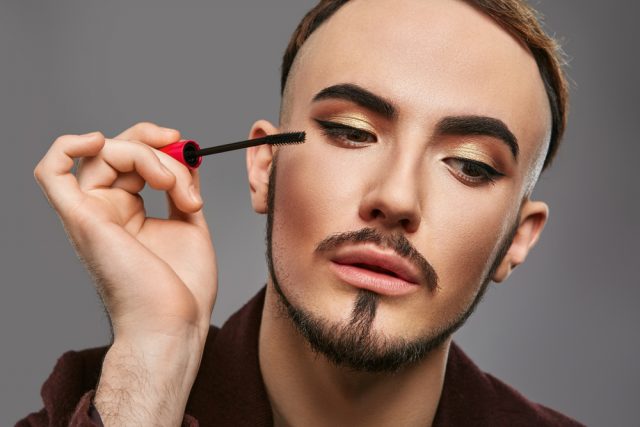 At the end of 2018 Chanel launched a small makeup line for men, it has been praised by the beauty industry. With Forbes calling it "revolutionary" the new range sparked plenty of media attention and industry experts, such as GQ's style and grooming director Teo Van Den Broeke, loving the products. Urging readers and men alike to "wear more makeup", which sparks the questions of how our cultural norms and societies view of men and makeup has changed over centuries. 
In 2016 a global report was released by the Allied Market Research stating that men's grooming market is "expected to garner $166 billion by 2022" and the entire cosmetic market "is expected to reach a market value of USD 805.61 billion by 2023"
The Chanel range includes Boy de Chanel foundation, eyebrow pencil and lip balm. With the campaign focusing on the saying "Beauty knows no gender", creating an open minded welcoming feel that has no limitations. 
Both Fenty beauty by Rhianna and Charlotte Tilbury beauty have released official videos demonstrating beauty products and make up on men, full of tips and tricks. This could be seen as an attempt to open up their market to more male consumers and encourage men to use more makeup. 
There are many niche male makeup companies scattered throughout instagram some being more subtle than others, such as the company Stryx. Selling two products a concealer stick and a tinted moisturiser, both products featuring sleek black sophisticated packaging which could easily be mistaken as a fancy pen or deodorant.  The goal of Stryx is to normalise men using makeup in their everyday lives. 
The history of men and makeup spans into the 18th century when men traditionally used makeup in myriad ways, and it wasn't until the mid-1800s that makeup took a turn. This gender flip was heavily influenced by Queen Victoria I where makeup was considered "an abomination" and associated with vanity and femininity. 
Now in 2019 beauty and makeup is seen as a genderless device by some but is still widely only used by women and seen as a female product. But overtime the rise of the male beauty industry will lead to us seeing make makeup on the selves of our local beauty store. 
If you want to stay up to date with the latest beauty trends make sure you stay tuned to Beauty News!