Kylie Jenner has posted to her YouTube channel a Purse Closet Tour. Purse Closet. Kylie has had a custom built wardrobe made specifically to house her purses, or investments as she calls them.
The 21-year-old, whose Kylie Cosmetics empire is worth an estimated $900 million, gave her fans a full tour of the room. Many of the vintage and limited edition designs are considered priceless – putting the entire worth of Kylie's collection close to $1 million.
In her video, Kylie reveals that she has a few bags set aside for her daughter Stormi, including a $7,700 pink Hermes bag that will likely be her little girl's first purse.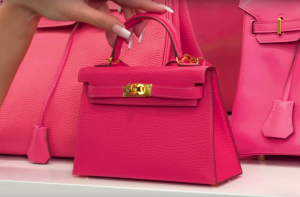 'This is pretty much where I keep all my purses,' Kylie says at the start of the clip.
'I made a little room for them in my house and I did this all custom so they could have a little home and be lit up really pretty.'
Kylie has organised her collection by designer, and explains that her favourite row is definitely the Hermes row. This row showcases her growing collection of both vintage and limited edition Hermes bags, which can retail from anywhere between $12,000 to $20,000.

'I have been collecting these bags for a minute. They are also a great investment,' she says of her Hermes bag collection, which is worth more than most people's homes.  
Kylie has at least four leather Hermes Birkin bags, which cost $11,000 or more a piece, while her orange suede Birkin retails for about $20,000.
'The one that I think is the most unique and cool is definitely the Dalmatian. I think it is really beautiful,' she says of the limited-edition Birkin, which costs about $20,000.
Kylie also thinks her Hermes So Black Birkin is 'pretty cool' because it has all black hardware. The limited-edition style, which was estimated to be worth $10,000 to $15,000, went for $24,000 at a Christie's auction.
The mother-of-one is also a fan of the French luxury label's iconic Kelly bags and has a variety of the style, including a extremely rare matte white Niloticus Crocodile Retourné Himalaya Kelly bag.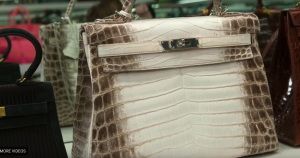 'This one here is really special. If my house was on fire, I would take this one out of all of them if I could only choose one,' she explains.
Kylie also takes a minute to pull down a Louis Vuitton Xupes X Year Zero London hand painted 'Momager' Alma PM which features a cheeky portrait of her mother, Kris Jenner.
Although the hand painted vintage bag from the '90s only costs an estimated $1,400, the work of art is undoubtedly priceless to Kylie.
'My mom gave me this for Christmas also,' she says, 'and she knows how obsessed I am with her, so she got this really cool piece from an artist.'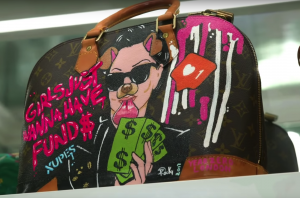 Another bag that is near and dear to Kylie's heart is the $5,495 Judith Leiber Couture Seductress Crystal Lipstick Clutch bag her sister Kim Kardashian gifted her.
At the end of the clip, Kylie opens up about another priceless item in her closet: a vintage black Prada coin purse.
Although the bag is only worth a couple hundred dollars, it has plenty of sentimental value because Kris gave one to Kylie and Kendall when they were babies.
'You know she keeps everything, so I still have it. It's a little dirty,' she says. 'This is in all of our baby photos. Me and Kendall were always holding these. I love this little coin purse.'
Check out the full video here: