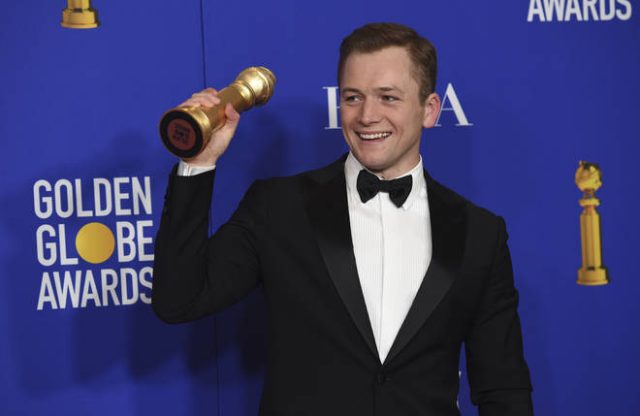 On Sunday evening (or midday Monday for us Aussies trying to locate a streaming service at work), Hollywood kicked off its major awards season with the 77th annual Golden Globes ceremony. One of the messiest and turbulent events on the A-Lister awards calendar, the Globes are notorious for their booze-laden acceptance speeches, cheeky presenter commentary and ~shock~ wins and upsets, and yesterday's ceremony did not disappoint. While it would be easy to simply list the winners of each event category, these awards provide such a rich tapestry of chaotic energy, it would be remiss of us not to acknowledge some of the most notable moments & seeming snubs of the evening.
Winner: Ricky Gervais
Whether you agree with Gervais' provocative and crude humour or not, there's no doubt that the comedian was living his best chaotic life ripping into Hollywood's elite at his fifth (and promised, final) time hosting the event. While the Britton's comedic flavour is unpalatable for some, it did bless us with some of the best reactions of the evening, which if we're being honest, is the clickbait that the Globes live for and probably had in mind when employing Gervais again this season.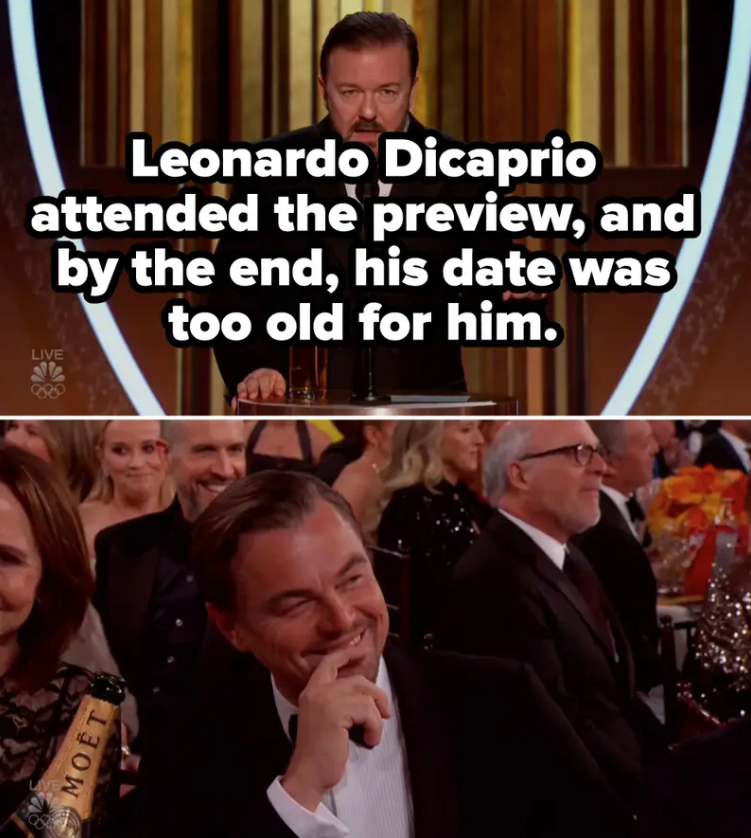 Any man that can make our Leo smile like that is A-OK in my book.
Not all of the celebs took Gervais' jokes as well as forever legend Leo DiCaprio however, with Tom Hanks providing us with 2020's first beautiful reaction gif/meme, just six days into the new year.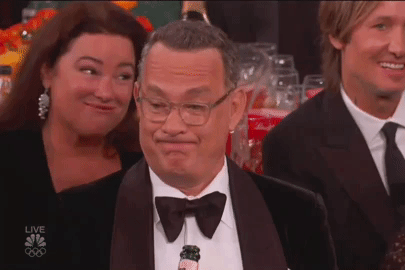 Loser: Netflix
Despite receiving 34 nominations in multiple categories this year, streaming giant Netflix walked away with only two pieces of the gold hardware: a Best Supporting Actress win for Laura Dern in Marriage Story and a Best Actress in a TV Series win for Olivia Coleman in The Crown. Many have considered that this big loss for Netflix could stem from the voting body's continual resistance to accepting streaming services in a time where studios are seeing less recognition at the box office, however time will tell as to whether this snub will have any affect on Oscar voting preferences in February.
When you're still snubbed despite producing some of the best films of the year.
Winner: Joaquin Phoenix
With one of the most heavily anticipated and well-received performances of the year, the Best Actor in a Drama accolade was very much Phoenix's to lose. Considered the dark horse of his category due to his open criticisms of the Hollywood elite, many feared that Joaquin would be shut out from a win. As this is the Golden Globes however, and they absolutely relish a *shock!* pan to the audience moment, the award was rightfully bestowed upon Phoenix.
And boy did he deliver the mother of all acceptance speeches.
A beautiful mixture of urging his contemporaries to take a stand to insight change in the world, rather than just preaching it from their podiums, to recognising that each of the other men in his category were just as deserving of this accolade, Joaquin truly gave the speech of the night. We have no choice but to stan.
Phoenix's main competition in the category was considered to be man of our hearts Adam Driver. While many were disappointed for Adam's loss after an amazing year of back to back film feats, our boy was absolutely living for Joaquin's win.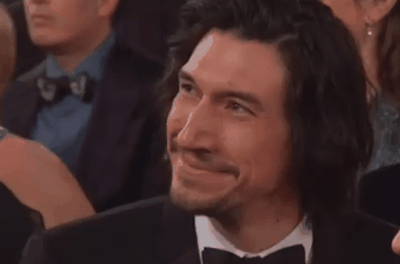 Adam Driver watching Joaquin Phoenix's acceptance speech is the only thing that has mattered. Ever.
The two kings even had an amazing moment post-win.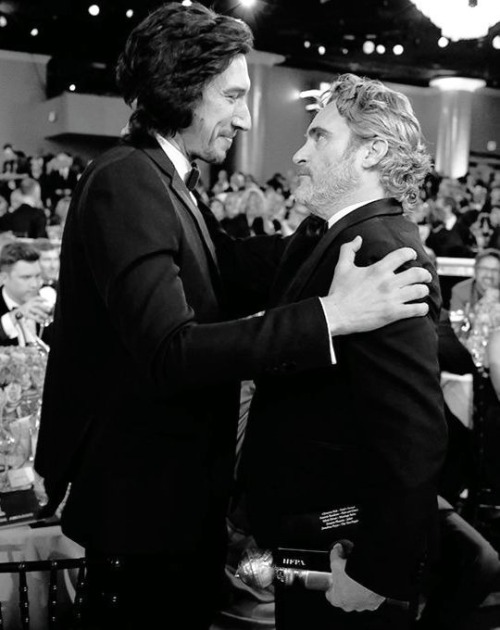 We have no choice but to stan.
Loser: Little Women
As Little Women only hit Australian theatres a short while ago, and some of us have spent that time in recovery mode from the Christmas/New Years festivities, only emerging from hibernation a mere two days ago, I had yet to see Little Women until last night. And My. God. Why did this movie not get nominated for more awards?!? A true masterpiece, its an absolute travesty that this film is not getting more awards season recognition outside of Saoirse Ronan's performance. Direction? Amazing. Greta Gerwig should have won the damn Globe for best direction, let alone not even be nominated – although the lack of female director diversity (another huge loss), was touched upon again by host Ricky Gervais at the ceremony.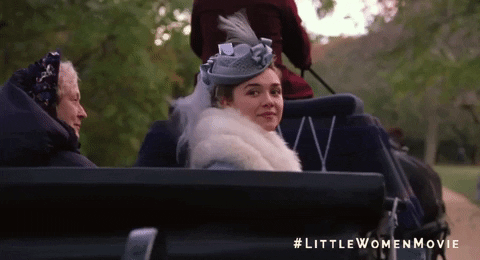 Any actress that can make me like Amy March deserves all the awards, let alone the magnificence that is Florence Pugh.
Winner: Taron Egerton
One of the biggest shocks of the evening came in the form of the Best Actor in a Comedy/Musical category, with the Globe being awarded to Taron Egerton for Rocketman. There was never a shadow of a doubt about how pivotal and extraordinary the young Welshman's performance was in the musical/biopic of Elton John's life, however in a category surrounded by industry legends Leonardo DiCaprio, Eddie Murphy and Daniel Craig, very few saw Taron walking away with the top prize. This win provided some of the most wholesome content of the evening, with Sir Elton barely able to contain his excitement as Egerton walked up to the podium to claim his prize.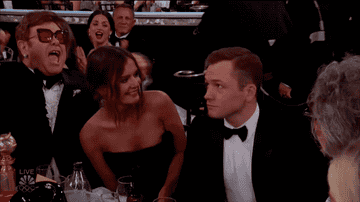 I mean.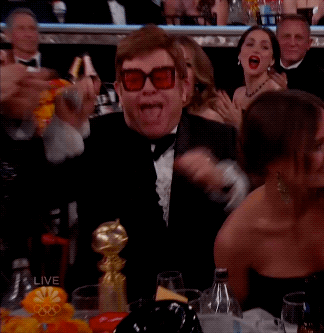 The purity.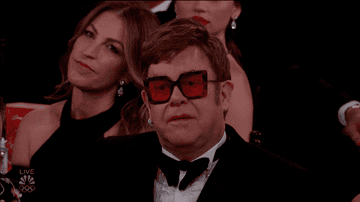 I cant even.
Loser: Diversity
It's a tale as old as time itself, and yet it is very much worth repeating and recognising until change is made. This year's awards were once again criticised for the blatant lack of diversity in each award category, most notably for the complete snub of all female directors from the Best Director category, despite some of the year's best films being helmed by female directors. Further snubs came in the form of the lack of POC winners and nominees, with almost each category's winners being white, apart from Awkwafina, who won the Best Actress in a Comedy/Musical prize, and Boon Joon-ho, who collected the award for Best Foreign Language film…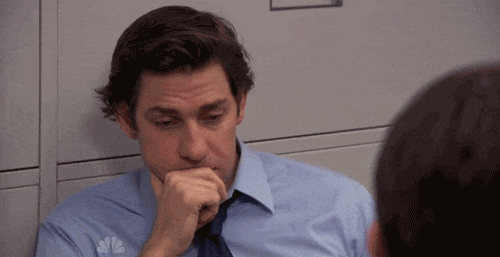 Featured Image Source: PA via heart.co.uk