American TV show Roseanne has been axed by American network ABC over the lead actress' racist tweet about former Barack Obama adviser, Valerie Jarrett.
The TV star, Roseanne Barr attacked Jarrett on Twitter and compared the former Obama adviser to an ape, saying it was like the "Muslim brotherhood & planet of the apes had a baby=vj"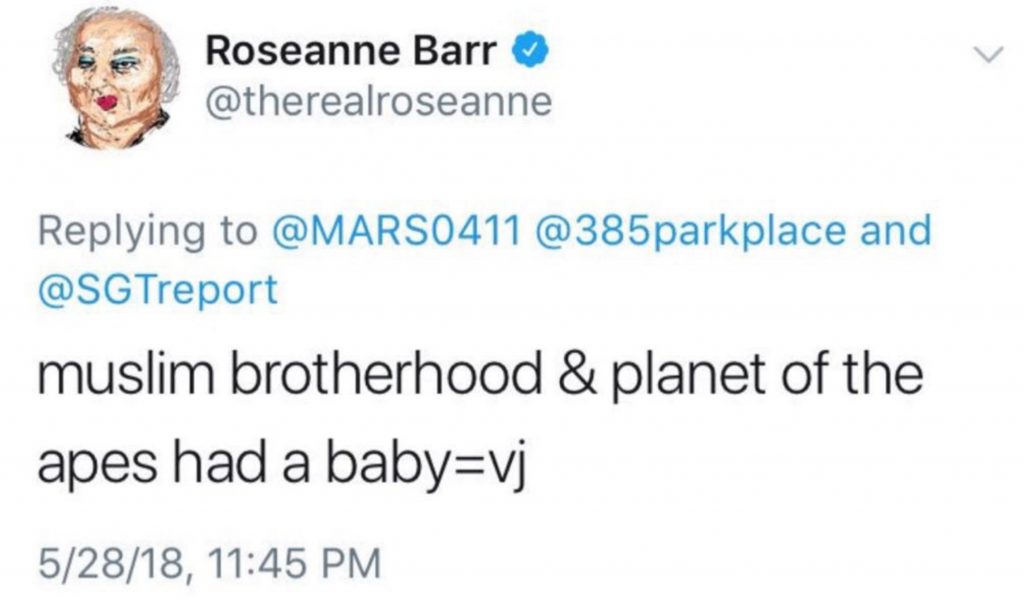 The comedian deleted the tweet and apologised about Ms Jarrett, who was born in Iran to American parents.
Barr admitted her "joke" was in "bad taste" and said she was leaving Twitter.
Barr wrote "I apologise to Valerie Jarrett and to all Americans. I am truly sorry for making a bad joke about her politics and her looks. I should have known better. Forgive me – my joke was in bad taste."
The apology was not enough to redeem the star's social media behaviour and cost her, her beloved sitcom.
"Roseanne's Twitter statement is abhorrent, repugnant and inconsistent with our values, and we have decided to cancel her show," Channing Dungey, president of ABC Entertainment, said in a statement.
ABC has canceled #Roseanne. pic.twitter.com/UaEITxZ1Rw

— Kate Aurthur (@KateAurthur) May 29, 2018
Bob Iger, chairman and CEO of the Walt Disney Company, which owns ABC, tweeted "There was only one thing to do here, and that was the right thing."
Her talent agency, ICM Partners also dumped the comedian.
Roseanne returned to ABC in March, becoming the network biggest hit of the 2017-2018 season debuting at number one.
The revival show attracted 18 million viewers in its premiere and was greenlit for a second season.
Channel Ten, the Australian broadcaster of Roseanne, said it would not be broadcasting remaining episodes.
"Network Ten is appalled and disgusted with Ms Barr's racist tweet and has removed Roseanne from Ten and Eleven, effective immediately," a spokesperson for the network said in a statement.
The original Roseanne aired from 1988 to 1997. It featured a blue-collar family, the Conners, struggling to get by and was praised for its realistic portrayal of working-class life.
Follow Aussie Gossip for Gossip direct to your newsfeed!