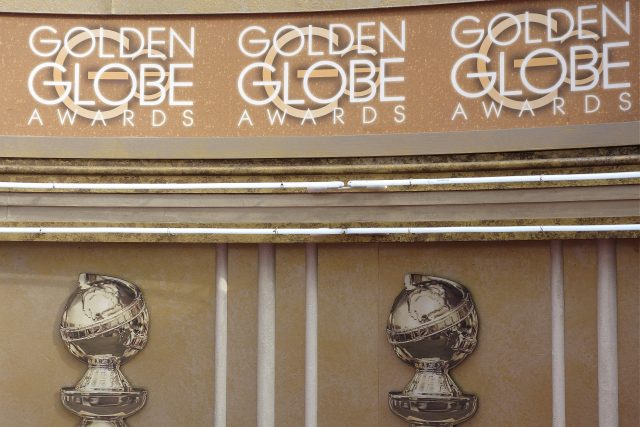 The Golden Globes have time and time over proven to be a chaotic binch of an event, filled with boozed-up celebs, drunken acceptance speeches and at times questionable winners. With nominations for the lauded awards ceremony being released this morning, we waited with baited breath to see who would be celebrated, and ultimately who would be snubbed.
And all I can say for this is, I am disappointed, but not surprised.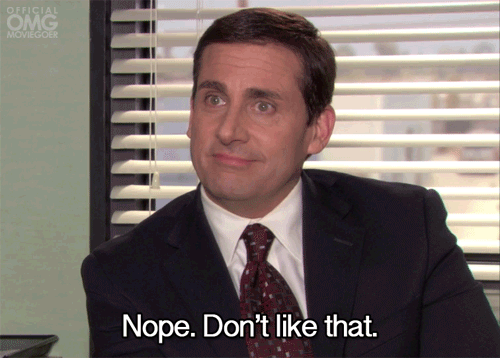 The Golden Globes are a long-standing staple of the entertainment industry, presented to commemorate the best of film and television from the year gone by as determined by the Hollywood Foreign Press Association. In previous years, the show has been criticised for its white-male centric boys club of nominations and winners, rarely touting any diversity in its major awards categories. The show was even called out by none other than presenter Natalie Portman herself back in 2018 for its lack of female nominees in the Best Director category, as she was reading out the ballot!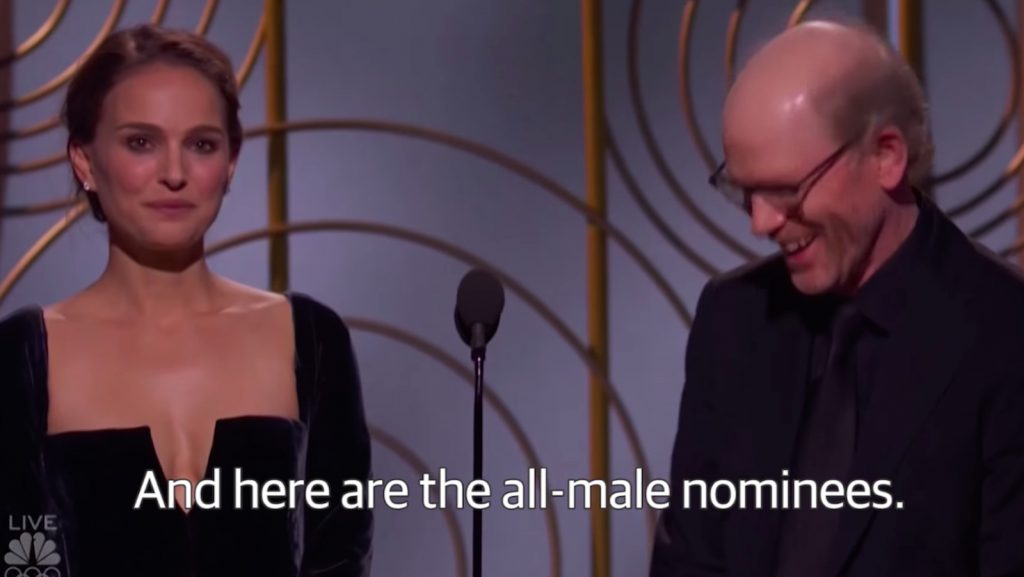 HFPA, Natalie wants to meet you in the parking lot
The Best Director category is a whole heaping mess
Despite our girl Natalie's iconic slay back in 2018, this year's Best Director category was about as diverse as an early 2000's college movie frat house. Greta Gerwig (Little Women), Lulu Wong (The Farewell) and Olivia Wilde (Booksmart) were all shockingly shut out of this year's nominations, despite all being critically acclaimed and poised for awards recognition. This also marks the second time that the phenomenal Greta Gerwig has been left out of the category, as she was also famously snubbed back in 2018 with Lady Bird, for which she went on to receive an Oscar nomination. Noah Baumbach's Marriage Story also received a wealth of nominations this year, however he too was left out of the Best Director race, leaving critics and film fans scratching their heads. These directors shouldn't take this snub too much to heart however, as there was little room for recognition after the director of The Hangover slid most comfortably into a nomination in this category …
No bid for good ol' Bobby De Niro
Another shocking twist this morning came in the form of the Best Actor (Drama) category, with Robert De Niro falling short in one of the only categories that The Irishman didn't seem to dominate in. De Niro was believed to be a shoe-in for a Golden Globe and eventual Oscar nomination for his portrayal of famed truck driver turned mobster Frank Sheeran, however with such a stacked category this year there was always going to be one contender left out in the cold. With costars Al Pacino and Joe Pesci both scoring nominations in the Supporting Actor category, its a wonder as to what we can attribute Bobby's snub to, as his performance clearly was not the problem – perhaps that god-awful deageing CGI?
Zendaya, Watchmen and When They See Us all left empty handed
Twitter users and critics were equally as outraged about the Television nominations as they were the Best Director bid, with Euphoria, Watchmen and When They See Us all failing to place in any of the categories. Not ones to miss a beat, the Twitterverse exploded with condemnation of the Globes when it was revealed that none of these groundbreaking productions were being recognised.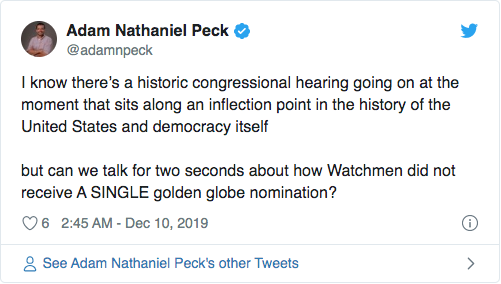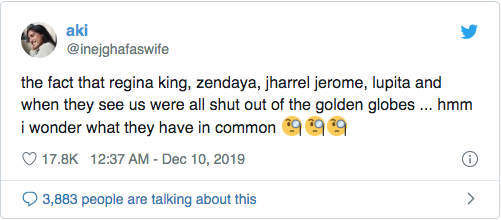 Dumpster fire Game of Thrones spectacularly receives one nomination … for the wrong category
The once critically acclaimed award season juggernaut Game of Thrones has left tail between its legs this morning after only scoring one nomination in any of the Television categories for its condemned final season. What's more, the only nomination it received was in the Best Actor category for Kit Harrington's portrayal of Jon Snow, arguably one the show's weaker performances as the series came to a close. While this feels like comic retribution after a disappointing end to the once celebrated show, fans were astounded that Kit's performance was nominated, whilst Emilia Clarke and Gwendoline Christie were seemingly ignored.
While the nominations have divided film and television fans due to these obvious snubs, there is room for celebration as some of this year's spectacular performances were recognised, most notably:
Best Actor in a Motion Picture (Drama): Adam Driver for Marriage Story & Antonio Banderas for Pain & Glory
Best Actor in a Motion Picture (Comedy/Musical): Eddie Murphy for Dolemite Is My Name & Taron Egerton for Rocketman
Best Actress in a Motion Picture (Drama): Cynthia Erivo for Harriet
Best Actress in a Motion Picture (Comedy/Musical): Awkwafina for The Farewell & Beanie Feldstein for Booksmart
Best Actress in a Supporting Role in a Motion Picture: Jennifer Lopez for Hustlers
Best Director: Bong Joon-ho for Parasite 
Best Actor in a Television Series: Billy Porter for Pose