Actress and singer Emmy Rossum has become the unexpected source of motivation we definitely needed this week.
On her Instagram story this morning, Rossum shared a series of images, and we knew from the first one that this was going to be a post to take note of.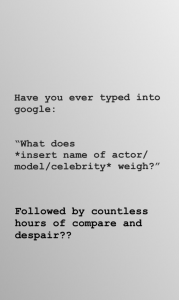 On a blank screen she simply asked, "Have you ever typed into Google: What does *insert name of actor/model/celebrity* weigh?"
She continued to answer the question, telling her 3.2 million followers exactly what she weighed. But the answer was not a number on a scale, or anything of the sort. Rossum listed all the aspects of her life that made her unique, and proud to be herself.
The list included:
"3 best friends since kindergarten, drive, kindness, empathy, Jewish and proud…"
and many, many more.
Celebs are are renowned for being criticised about their weight. Normally they take to social media to quell rumours and lies about their weight – it's nice to see someone taking a different spin on the topic, and turning it into a massive positive.
We're joining Emmy in this movement. I weigh:
A dad, a mum, two brothers and a sister who love me,

Friends who support both my good and bad decisions,

An (almost finished) degree in Journalism and Public Relations,

Adventures to 13 countries in the span of 12 months,

A pun repertoire to be incredibly proud of, and

Some KILLER camo jokes
We're challenging you to join in! Tell us in the comments exactly what you weigh and let's share a little bit more love in the world.
Stay tuned for more Aussie Gossip!