Obviously everyone remembers Buffy the Vampire Slayer. It was one of the best shows of the 2000s, with the OG strong female character and a heroic cast.
Well grab yourself a fresh pair of underpants, because they've just had a pretty awesome reunion photoshoot.
Brought to us by Entertainment Weekly, the main cast of the show got together with creator and director Joss Whedon for a celebration of the show's 20th anniversary.
As well as a few snaps of the whole gang, there are portraits of individual characters in various glorious (but not Glorificus *Buffy nerd laugh*) combinations.
Check out exclusive #BuffyReunion portraits of @JamesMarstersOf, @alydenisof, @NicholasBrendon and more! https://t.co/66xRKVs5g7 pic.twitter.com/IpgFYTJW2A

— Entertainment Weekly (@EW) March 29, 2017
It's fair to say that a few of the cast members involved were kinda excited to be back together.
Kisses from the #fam @RealMichelleT @theksutherland pic.twitter.com/FqT7PK7QCt

— Sarah Michelle (@SarahMGellar) March 29, 2017
That time @EW got us all together for a #BuffyReunion pic.twitter.com/iwiJK17eD8

— Seth Green (@SethGreen) March 29, 2017
It was the High School Reunion I actually wanted to attend! Thanks @ew for making it happen https://t.co/h9b8Ab386n

— alyson hannigan (@alydenisof) March 29, 2017
Predictably, the fan reaction came pouring in when the shoot broke. Equally predictably, that reaction was heartfelt and gleeful and definitely overexcited.
Buffy Buffy Buffy Buffy Buffy Buffy Buffy Buffy Buffy Buffy Buffy Buffy Buffy Buffy Buffy Buffy Buffy Buffy Buffy Buffy Buffy Buffy Buffy Bu

— Kelly Thompson (@79SemiFinalist) March 29, 2017
Buffy the Vampire Slayer's 20th anniversary! 💙 Oh, be still my childhood heart! #Buffy20 #BuffyReunion pic.twitter.com/tWr9PlqZIs

— Jen (@justjen_x) March 29, 2017
#BuffyReunion got me like pic.twitter.com/3DGleMkl6A

— Samantha Hutton (@Whedonology) March 29, 2017
It's pretty amazing that the show has carried such a loyal fanbase for this long, and it says a lot about just how good it was.
Joss Whedon, cult director turned Avengers maestro, also had some excited sentiment to share about the reunion and, in his typical way, praised his cast for ageing so well.
"For the most part, this is like a high school reunion but much worse because they all still look great," he said. "I was hoping some of them would puff out a bit. But that did not take place."
Now, I do have to dull the excitement to say that there is no spin-off or reunion special in the works for Buffy. I'm not crying, you are. Much as we'd all love to see it, we may have to accept that it's not going to happen.
AND IT'S BEING TAKEN OFF NETFLIX TOO! WHAT IS THIS MADNESS?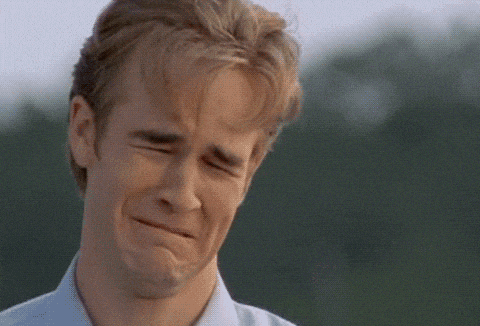 Guess there's a two-day nostalgia binge in the making for a lot of people now.
However, there are a series of graphic novels set in the same universe coming to us, called Slayer, following one of the girls who was given slayer abilities in the show's finale. So that's something, right?
Happy 20th, Buffy. Keep on warming our hearts and slaying haters.