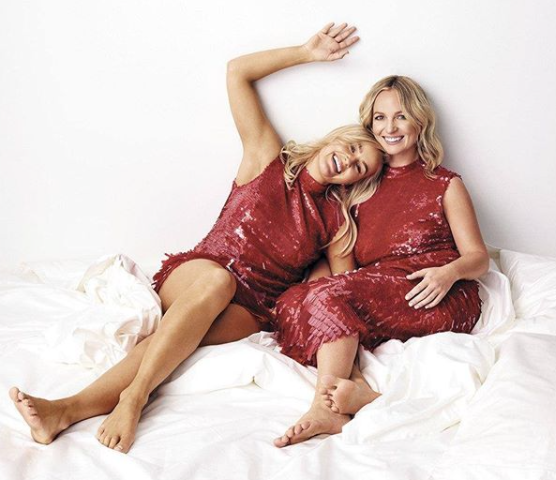 Because the idea of 1 girl dating 20 guys isn't mad enough the producers have decided to throw another girl in the mix. For the first time in the Bachelorette history we will watch sisters Elly and Becky date the same 20 guys at once. 
You may remember Elly (25) from last year's season of the Bachelor, where she was unsuccessful in her search for love with Matt Agnew. However this year she gets to call the shots alongside her sister Becky (30) who will be joining forces with her in their dual search for love. 
On last night's season premiere we got to meet the eligible men who are embarking on their journey to winning the Miles' sisters' hearts. After witnessing a range of interesting arrivals we got to know the guys a little better throughout the cocktail party. 
At the rose ceremony we were shocked to see that AB Sow actually turned down his rose. We thought he had potential with Becky but he obviously thought otherwise. Ab confided in 10play which gave us some insight into his decision to leave the show so abruptly. Ab explained that the girls said they were looking for someone genuine and upfront and after talking to a few of the other bachelors he realised that even though he thought he was ready to fall in love, that "they were way further into that than I was," he said. "I felt behind in that sense and that made me feel like okay, obviously I can't lie. I have to be upfront and not waste their time because [of what] they said at the start of the night." 
So without further ado, let me introduce you to the guys Elly and Becky have chosen to get to know a little better as they continue their search for lasting love. 
RUDY EL KHOLTI, 30, SYDNEY
Mr Italy over here.. Literally.
Rudy lived in Australia for 7 years before officially becoming an Australian citizen at the end of 2019. He was also crowned Mr Italy in 2019. Fitness model Rudy lives in Sydney and continues his career as a professional model.
PETE MANN, 34, ADELAIDE
We get the idea that Pete is an adventure seeker and fitness fanatic. After a quick lurk of his insta we discovered his plans of running 100km to raise money for bushfire recovery efforts within the Adelaide Hills Wine Region. On top of that, Pete is the owner of a thriving cafe called Octeine. 
DAMIAN STONE, 31, MELBOURNE
After scrolling through property valuer, Damian Stone's insta we quickly realise he is a real family man. His feed is filled with pictures surrounded by friends and family. Damian reinforces this by putting "family and friends first" in his bio.
SAJ BAKHSH, 25, ADELAIDE
Meet Saj, a mental and physical health professional from Adelaide. He shares fitness tips and motivation on his instagram. Saj seems really down to earth and we think he could be a real contender on this years season.
PASCAL WALLACE, 33, NSW
Pascal is a sports physio and the CEO of AIHCS. After a quick glance of his insta we can see he loves puppies…making him a keeper for sure.
JOE WOODBURY, 25, NEWCASTLE
Just like the Miles' sisters, Joe is from Newcastle and we believe they may have already crossed paths. According to Daily Mail, Elly was following Joe on Instagram prior to filming the Bachelorette.
AGOSTINO GUARDIANI, 30, MELBOURNE
Barber turned business owner. Agostino also known as Aggi, runs a successful skincare brand, Woodsman Skincare.
ANDREW THOMAS, 30, ADELAIDE
Currently living in Adelaide, this fun loving tour guide, performer and…clown is searching for love. By looking at his Instagram we can see his gone far and wide and now he's possibly looking to settle down and fall in love.
JAKE RICCIARDO, 26, PERTH
Jake is very fashion forward and seems to think that this will make him stand out in this years series.
FRAZER NEATE, 28, QUEENSLAND
Tradie by day, we sense Frazer is very easy going and loves to party- by the looks of his instagram.
ADAM TODD, 24, PERTH
Adam is a 24 year old geologist who loves AFL and Surfing. He seems cute but we are wondering if he has what it takes to rock their world.
ADRIAN BAENA, 26, QUEENSLAND
Water baby, Adrian is a kite surfing instructor from the Sunshine coast. We can gather from Adrian's instagram that he loves adventuring and that this passion has taken him to all corners of the world including Egypt, South Africa and Phuket.
HARRY HARRIS, 35, ADELAIDE
Harry is a 35 year old builder from Adelaide. Harry is also a dad and by the looks of it, a very cool one. His instagram is filled with pictures of himself and his son on all kinds of adventures.
JAMES BOGGIA, 28, QLD
Pro Wakeboarder, James is also from the Sunny coast. By the looks of it, he has the dream life and now it's just about finding the right girl to spend it with.
SAM VESICA, 35, NSW
35 year old Sam is a lawyer from Sydney. He has travelled far and wide but will it be here, on the Bachelorette that he finds the love he's searching for.
SHANNON KARAKA, 30, NSW
Shannon runs a Hawaiian T shirt company called the Get happy co. The company aims to help to support mental health through clothing. Not only is he a great businessman, Shannon also won Mr Polynesia in 2017 and with a smile as charming as his, we can see why.
TRENT CRAY, 31, PERTH
Finance broker, Trent Cray looks like the life the party. On his instagram he shares pictures of him partying and travelling with friends. We wonder if he is ready to settle down and find love.
https://www.instagram.com/p/CF8LxRVn2QL/?utm_source=ig_web_copy_link
Tune in at 7.30pm tonight to see how the season's first double date goes.