Former king and queen of the entertainment world, Brad Pitt, 53, and Angelina Jolie, 41, have reached an agreement to keep the future details of their divorce under wraps. It's the first thing they've agreed upon in their vicious divorce proceedings. The stars released their first joint statement since Angelina filed for divorce in September last year.
"The parties and their counsel have signed agreements to preserve the privacy rights of their children and family by keeping all court documents confidential and engaging a private judge to make any necessary legal decisions and to facilitate the expeditious resolution of any remaining issues."
According to Buzzfeed Jolie and Pitt have settled on hiring retired Judge John Ouderkirk (who married the couple, People alleges) to privately hear the case. Engaging a private judge means that the hearings will take place in an office instead of a public courthouse, so the likelihood of members of the public attending is small. It also ensures a speedy hearing, so Pitt and Jolie can resolve the pressing custody issue. The joint statement concluded that; "The parents are committed to act as a united front to effectuate recovery and reunification."
For some reason we just imagine Brad in that Mr & Mrs Smith office like…
So far, we haven't seen any signs at all of commitment to a "united front". Instead it's been 'he said, she said' bitchiness that we wouldn't have thought possible from the two renowned actors. In attempting to have the court records sealed for privacy reasons, Brad's legal team said that Angelina continued "to place her own interests above those of the minor children and to disregard their privacy rights when she believes it may benefit her." In response, Jolie's legal team belittled the attempt to seal the records as "a thinly veiled attempt to shield himself, rather than the minor children, from public view."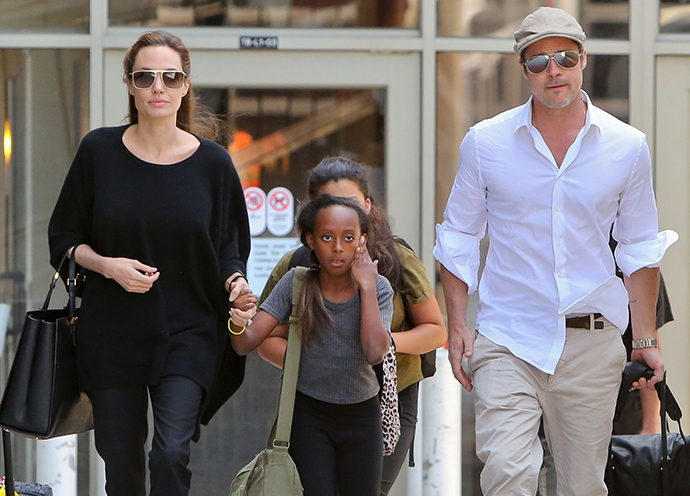 When she filed for divorce in September 2016, Jolie asked for full physical custody and joint legal custody. Pitt's response asks for joint custody in both areas, which is more likely to be honoured under California state law.
Both Pitt and Jolie have been keeping a low profile, although Brad did make a surprise appearance at the Golden Globes, much to the delight of the audience. He is looking fiiine.