Aussie babes and music festivals— a match made in heaven. Lucy Jackson and Nikki Westcott are the BFF duo that make up We The Wild Ones. Their trademark is 'We get dressed, get snapped & then get wild'. The girls have been friends since meeting at James Cook university, and started their crazy IG page 2 years ago that now has more than 106K followers!
They are the ultimate festival goers with their amazing fashion and festival tips. They're endorsed by amazing brands including Camilla With Love and Spell & The Gypsy to flaunt their festival fashion. They snap their festival experiences and their 'same same, but different' outfits and their fans are obsessed (and so are we).
The Wild Ones also give us serious wanderlust and travel envy— documenting their globetrotting adventures to Central & South America, Bali and of course the Annual trips to the USA for Coachella!
Nikki and Lucy have just started their self named Youtube Channel, giving us some hilarious BTS videos and their best tips for festivals, outfits and life in general. The girls give their best guides to tackle festivals, how they style their outfits and how they construct their Insta famous cheese platters.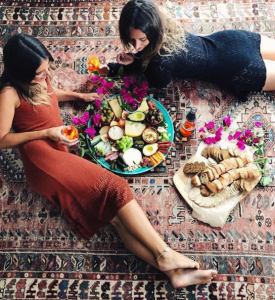 The duo openly support small and micro brands to help every #girlboss out their as much as they can. The Wild Ones infectious and down to earth personalities and killer style has lead them to become household names within the Instagram hall of fame.
Lucy has recently announced her upcoming project, 'A Basic Girls Guide', an online video course for all the girls out there who want to be insta famous.
She's aiming to teach her subscribers how to get lots of followers, get paid to wear designer clothes and go on holidays to the Maldives (SIGN ME UP!)
Check the girls IG & Youtube Channel out to get hyped for the upcoming festival season!