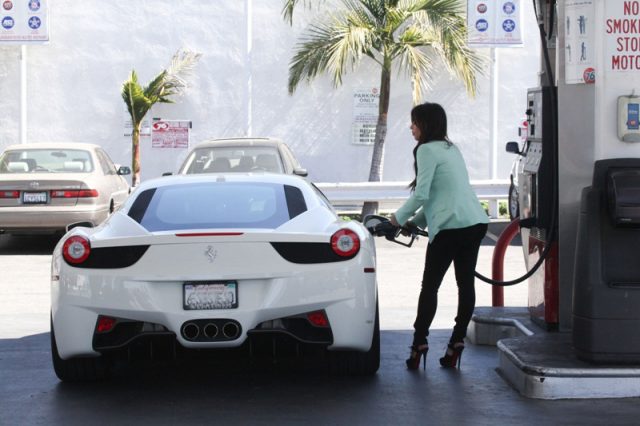 Well, it seems that Kim Kardashian's white Ferrari she received as a wedding gift with her then husband, Kris Humphries, may need to be returned.
Apparently it was bought with $325,000 stolen from the people of Malaysia, federal prosecutors say.
Kim and her ex-husband were given the sports car as a wedding gift in 2011, and fought over it in divorce court a few months later. At that time, a source told RadarOnline: "Kris was at Kim's house when the gift was delivered – it was given to both of them but Kim has kept sole ownership of the gift and has used it extensively."
Despite the fact that she was spotted in Miami last night month arriving at dinner in a white Ferrari – which was swiftly switched out for a lime-green lamborghini for the drive home to match her hair colour (iconic) – Kim's publicist and her divorce lawyer wouldn't confirm whether she is still driving the car.
The very generous wedding guest was only described as "a Malaysian businessman" at the time.
Apparently, the benefactor was Jho Low who is the subject of the new book "Billion Dollar Whale," about the spectacular alleged theft of up to $5 billion from the Malaysian government. Low is thought to be hiding out in China somewhere.
The Department of Justice has gone after other celebrities who received gifts from the star-struck Low. Leo DiCaprio turned over Picasso and Basquiat paintings. Miranda Kerr parted with $8 million in diamond jewelry. But there are many other celebs, including Swizz Beatz, Pras Michél and Nicole Scherzinger, who received less valuable gifts.
Low was known to take his guests to casinos and hand them chips, "Whale" co-author Bradley Hope told me. "At a Las Vegas casino, he once gave Paris Hilton $250,000 in chips."
The Department of Justice won't say whether it will try to recover the Ferrari, or the other gifts Low bestowed on his famous friends.