Devo that the Biebs deleted his Instagram account? Well, all beliebers rejoice because now we can have his face on our bodies!
Yes, you read that correctly. Justin Bieber has teamed up with Forever 21 and the music label Bravado to create a special eight-piece clothing line to promote his upcoming Purpose World Tour.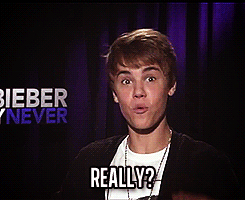 The collection will include short-sleeve, long-sleeve and oversize tee shirts that feature the JB's face. Better yet, the shirts also say 'Justin Forever' in huge writing. What more could we possibly want?!
According to Linda Chang, vice president of Forever 21 merchandising, they are just as excited as we are about the collection.
"We are pleased to partner with Justin Bieber and Bravado to celebrate one of the most influential musicians of this generation. This collection will give our customers and Justin Bieber fans access to one of the most in-demand merchandise lines in the world," she said.
The collection will debut on the Forever21 website on 22 August and will be released in stores one week later on 29 August.
Unlike some of Biebs' previous clothing lines, this one won't break the bank – nothing will be over $US35 ($AU45).
Not only are we stoked, but so are our wallets!