Jason Derulo made jaws DROP at this years MTV EMAs, taking a completely left of field route during his performance. Derulo, well-known for belting out bangers like 'Ridin Solo', decided to take Andrea Bocelli's "Time to Say Goodbye" by the horns and sing OPERA (Whatcha say!?)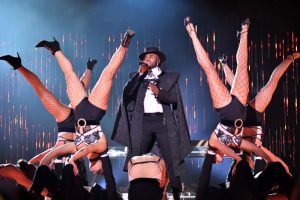 Before Derulo transitioned into his planned performance of "Goodbye" with David Guetta, he showed off his vocal range during a few angelic moments while being swarmed by a group of masked backup dancers.
Derulo quickly diverted back to his standard tempo with his fiery track before inviting Nicki Minaj up as his plus-one to deliver the final knockout blow to their highly-spirited track.
Derulo took to Instragram following the EMAs to explain the meaning behind his performance:
Last night was such a moment. I showed you a side of me that's been burning within for a long time. I was trained classically (operatically) and have sang classical music since I can remember. My mom has wanted me to show this side for a long time so she cried happy tears last night. Love you momma! The reception has been amazing! Should I do a classical project one day?
Whatever your thoughts were on the performance, I think we can all agree that Jason Derulo has the voice of an angel!
Stay tuned for more Aussie Gossip!